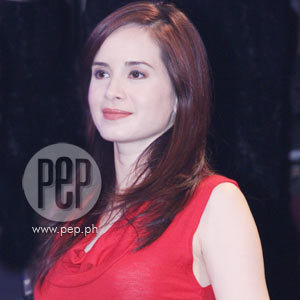 IMAGE 0
---
Lucy Torres-Gomez can survive an entire day lazing around inside the house. The soft-spoken host attributes much of this fact to her privileged background, growing up in the sleepy town of Ormoc in Leyte where time is practically sluggish compared to the fast paced city lifestyle.
Being married to actor Richard Gomez automatically earned Lucy instant ticket to the glitzy world of show business and made her a bonafide, though reluctant, celebrity with endorsement deals, television shows and even a ballroom dance record coming her way.
Much has changed in Lucy's lifestyle ever since she and Goma (Richard's nickname) tied the knot on April 28, 1998. Aside from settling in Manila for good, Lucy has been attending to showbiz commitments left and right while juggling her time as a fulltime wife to Richard and mom to their only daughter Juliana.
LEARNING THE ART. For someone who confessed being prone to that so-called "tamad days" and who loves to eat and try out dishes, one can easily conclude that Lucy is truly blessed to maintain her slight frame despite the absence of the usual workout routine popular nowadays.
But then not everyone is lucky enough to be given a show where one is required to dance non-stop several days of the week.
"Actually I'm lucky lang because I need to dance for the show regularly. So in a week talagang I have rehearsals," said Lucy in a recent interview marking the release of her debut ballroom dance album.
Lucy expressed discomfort with the notion that she is the face of ballroom dancing here in the country, stating that she is "far from good." Learning the art of dancing, according to her, is a continuous learning process given its the wide variety of genres.
"I like to [learn] Rumba and Cha Cha," revealed Lucy, who described these dance types as two of the hardest to learn and apply.
ADVERTISEMENT - CONTINUE READING BELOW
"It looks easy kasi the way the old people do it 'yong pamarcha-marcha lang. Pero the real Cha Cha is magical... It's sexy and it needs a lot of energy, madaming pitik. The more I got exposed to the world of ballroom dancing and the more I saw the real dancers do it the proper way, ang ganda pala ng Cha Cha. It's really beautiful."
FONDNESS FOR THE OLD. Lucy's background also influenced her preference when it comes to music.
The Shall We Dance and The Sweet Life host readily acknowledged her fondness for standard tunes, citing music icons like Rod Stewart and American jazz singer Ella Fitzgerald among her favorites.
"I am an old soul," she smiled. "Hindi ko masakyan 'yong mga bago ngayon. If they ask me about all these mga new singers I wouldn't know."
Lucy singled out the '80s, however, as a good music era. She also has a vivid memory of the fashion trends—notorious for big eccentric hairstyles and colorful outfits—that defined the period.
"I grew up in the '80s. I was that little child who couldn't wait to grow up and be part of the '80s scene. I was too young to be part of the whole scene so pinapanood ko lang my older cousins kapag pumupunta sila sa disco," she giggled in recollection.
"Pero standards talaga are my favorite," continued Lucy. "In the car that's what I always play... 'Yong parang mga pang coffee shop music, that's what I like."