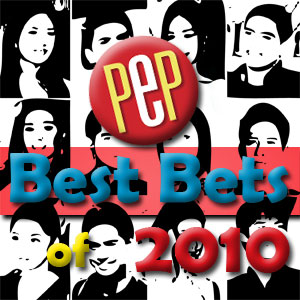 IMAGE 0
---
The year 2010 will be fierce as celebrities in local Tinseltown hustle up to showcase more of their talents, grab more limelight and forge their name in showbiz history.
As we all know, the industry already has a long roster of unique personalities. But with the unpredictability of what's in or what's out, one either fades out or stays on until the big opportunity to shine comes along.
PEP (Philippine Entertainment Portal) believes that the following showbiz talents will make it big in the coming year of the Tiger. Some of them may already be doing fine but 2010 will have their names probably mentioned all over the country with upcoming film and TV starrers.
Coco Martin. Indie films have already cemented Coco Martin's name in the film business and TV projects rained down on him in 2009.
With his back-to-back primetime drama shows Tayong Dalawa and Mula sa Puso adding to his achievements, Coco will continue to star in primetime shows next year; most likely, he could be a threat to Piolo Pascual's crown in due time. Major spots in film will probably have Coco in them. It would be a mistake to exclude this talented young artist who polishes his star with looks and talent, not to mention his growing proficiency in handling a fantasy role, as in Agimat: Ang Mga Alamat ni Ramon Revilla.
Jennica Garcia. Being the daughter of Jean Garcia already is a plus factor in her showbiz career, but beauty mixed with pure talent is hard to ignore.
TV guestings and afternoon soaps have become usual for Jennica the past year but this 2010 will look brighter for the teenage star, given that she is presented with a love-team partner to skyrocket her career (Mart Escudero is a good choice to experiment with). Primetime TV also will sooner or later have Jennica handling major roles and in time mold her into something her mom Jean would be doubly proud of.
ADVERTISEMENT - CONTINUE READING BELOW
And one more thing: FHM cover girl—2010's Top 10 Sexiest.
Maricar Reyes. She was unknown in showbiz until she was dragged into the sex-video scandal between Dr. Hayden Kho and Katrina Halili. One of the videos showing her and the celebrity doctor spread on Internet websites. After such public humiliation, she could have shunned the public eye and just disappeared forever. But no.
Maricar became the new face in women's empowerment as she earned the deep admiration of her peers and people in show business. Handling the controversy with guts and dignity, Maricar accepted opportunities to work as an actress and as TV host.
We already saw Maricar's talent on TV with Your Song: Gaano Kita Kamahal. Year 2010 will have the fresh celebrity included in more dramas and, most likely, a hosting job. The only way for Maricar is up!
Barbie Forteza and Joshua Dionisio. Forget the usual love teams. GMA-7 has developed a new tandem that would please a much wider range of audiences.
Enter Barbie and Joshua, the "Love Tween" that we came to love as the young Jodi and Cholo in Stairway To Heaven. Their portrayal of puppy love gives new meaning to light drama on afternoon TV via the "Christmas List" episode of Dear Friend. Check them out in the upcoming primetime soap First Luv and be captivated by the tandem's perfect execution of kid-drama that's a definite tear-jerker for drama fans.
First Luv may be the start for the two as their talent and good chemistry together on screen may pave the way for more projects. And perhaps more serious roles as they mature.
Paulo Avelino. Three years ago, Paulo was just another hopeful that got booted out of Starstruck. But, unlike some avengers who lay low, away from the limelight, Paulo chose to persevere.
ADVERTISEMENT - CONTINUE READING BELOW
His small roles from 2006 to 2008 were just temporary until Lady Luck began to smile on the young actor. With 2009's TV show All My Life, Paulo's acting talent finally turned heads.
2010 will probably have Paulo starring in more fantasy-themed shows, thanks to his scenes in the 2009 MMFF film Ang Panday. Future hostings will also prove beneficial for Paulo.
Melai of PBB Double Up. Reality TV gives ordinary people a chance to be themselves on national television. They can either impress or disgust thousands of viewers. This girl impressed us with her candid personality.
In Pinoy Big Brother Double Up, Melissa Cantiveros continues to gain admirers for her wit and no-nonsense attitude.
Whether she wins or not, the unforgettable Melai can look forward to 2010 with optimism. The Tiger may prove kind to her as bit roles in comedy, and even a hosting job, could give some known funny hosts a run for their money
Erich Gonzales. Nineteen-year-oldErich looks youthful, of course, but her mature role in ABS-CBN's Katorse proved that she can take on challenging roles without a sweat.
Her portrayal as a young mother in Katorse may open up new acting possibilities for the young stunner as future programs in her home station may open up new posts for talent such as hers. Drama may just be the right thing for Erich and it would be no surprise if we see more of her in upcoming primetime dramas and films next year.
And, like Jennica Garcia, Erich has the obvious qualities to get her name (and body) into the pages of FHM.
Akihiro Sato. The Brazilian-Japanese model knows not only to walk the runway but sing great as well. No doubt, Akihiro is one talent to watch next year, thanks to his exposure in GMA-7's Celebrity Duets. His dancing skill in Shall We Dance also gives this looker a great chance to get more TV time this 2010. With proper exposure and acting workshops, Akihiro may become the next big thing in showbiz.
ADVERTISEMENT - CONTINUE READING BELOW
StarStruck V's Rocco Nacino and Sarah Labahti. They may or may not win StarStruck V, but Rocco and Sarah show potential to make a name for themselves this 2010.
With looks to back up their fledgling talents, the two would-be stars will probably hit smoother roads this 2010 if given the right exposure and the right projects. Fresh is always welcome and the two—who also look good together—may be next big love team to look out for next year.
TV 5. You may be surprised that last on this list isn't an individual but a whole network. Yes, GMA-7 and ABS-CBN may be the two biggest networks (with equally big stars), but that doesn't mean that competition's closed.
2009 saw the birth of TV 5, which showed steady progress in audience viewership with its programs—Midnight DJ, Talentadong Pinoy, Front Act, and Who Wants to be a Millionaire. On top of several improvements, the station now opens itself to more promising celebrities, and is becoming a worthy adversary to the two giant networks.
TV 5 would definitely shake the foundations of the business this 2010 with its growing number of shows and stars—and movies, too.