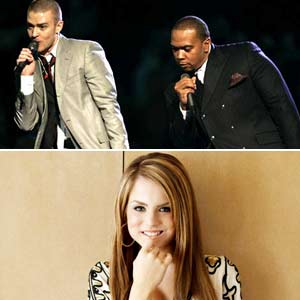 IMAGE 0
---
The most anticipated concert of the year just got bigger with the addition of Justin TimberlakeandJoJo Levesque to the Changing Lives: Timbaland Presents the Shock Value II Tour, which is set to entertain the Pinoy audience on March 27, at the SM Mall of Asia.
For more than a decade, super-producer Timbaland has dominated the pop charts by producing an endless stream of hits for Justin Timberlake, Jay-Z, Missy Elliott, 50 Cent and Nelly Furtado.
So prolific a hitmaker is he that in the span of a single year—from 2006 to 2007—the multiple Grammy Award winner produced more than 10 International chart-toppers, including Nelly Furtado's "Promiscuous," Timberlake's "Sexy Back," One Republic's "Apologized," and 50 Cent's "Ayo Technology".
Timbaland has been hailed by musicians and music critics alike as a sonic auteur in the tradition of history-making producers like Brian Eno, Gamble and Huff, and Phil Spector.
Now Timbaland brings "Shock Value II" right here in Manila, with the special participation of six-time Grammy winner Justin Timberlake and the multi-platinum singer Jojo.
The album is available in all major record bars nationwide, exclusively distributed by MCA Music Inc.
The proceeds of this premier live concert—which is made possible by U92, and will be produced by N91LIVE in partnership with All Youth Channels, Inc.—will benefit the PLDT Smart Foundation.
TICKET DETAILS. Rush to any ticket outlet now for your donations. Prices are P4,500 for VIP Donation tickets, P3,000 for Gold Donation tickets, P1,500 for Silver Donation tickets, and P300 for Bronze Donation tickets, plus service charge. You may also contact TicketWorld at 891-9999. For more information, log on to www.u92.fm.
ADVERTISEMENT - CONTINUE READING BELOW