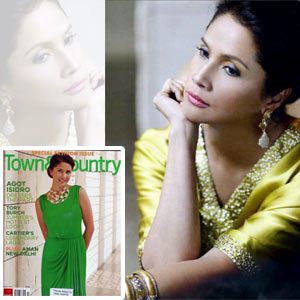 IMAGE 0
---
Singer-actress Agot Isidro confessed going through medical procedures in the past, hoping that it would enable her to finally conceive a baby after a series of failed attempts through the natural method.
The disappointment that followed, however, proved to be more difficult than the actual procedures.
"We did go through injections—those were hard—and I even underwent myomectomy," Agot candidly revealed in the March issue of Town & Country magazine.
Though Agot and husband Manu Sandejas were very eager to become parents, they both agreed to set a limit on how far they should try to have a child. So, when the idea of Agot undergoing fertilization was brought up as another medical option, the couple instinctively objected.
"We didn't want that procedure," said Agot, who constantly had to face questions about pregnancy from the members of the press for several years now.
With the couple refusing to try any other procedures, Agot and Manu knew that their chances of having a baby became even more remote. But their decision paved the way for total acceptance and an understanding that perhaps, as Manu told Agot, "This is how God planned our life to be."
Agot commended her husband for being open-minded and loving despite the absence of a child in their union. The singer-actress, who is currently seen in ABS-CBN's drama series Tanging Yaman, disagrees with the shallow notion that a childless woman is incomplete.
"I am complete," Agot stressed with confidence. "It's just not happening for us, so we can't force it."
ADVERTISEMENT - CONTINUE READING BELOW
Read more about cover girl Agot Isidro in the March issue of Town & Country magazine.