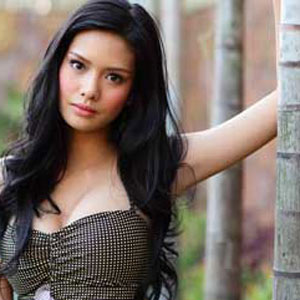 IMAGE 0
---
In an industry where dozens of new would-be artistas pop up on the TV screens every year, it's difficult to make a name for yourself. But Erich Gonzales is getting there.
Erika Chryselle Gonzales Gancayco has been waiting in the showbiz wings for quite a while now—since she was discovered on the second season of StarCircle Quest—and it looks like she's finally getting her turn in the spotlight. Her star is definitely on the rise, but Cosmopolitan-Philippinesfinds this young actress' feet still firmly planted on the ground.
The 19-year-old Kapamilya star is a girl of simple pleasures. Her only wish for the summer is to be able to travel with friends or family. "But," she says, "I guess I'll be working."
She takes her work seriously. She knows that showbiz is a difficult place to make a living. "The intrigues, the controversies," she says, listing the worst parts of her chosen profession. "But you know, it's part of show business so you just have to deal with it."
With her busy schedule, does she go out much?
"I go out if I want to," she says. "With my friends, like Kim [Chiu], Melissa [Ricks], and Empress [Schuck]." But what does she like to do after a long day on the set? "Sleep, of course! Get some rest!"
Erich keeps it real in a lot of ways, from her beauty regimen ("I don't really like super heavy makeup.") and fashion sense ("Just jeans and a nice shirt!"), to her thoughts on designer goods ("It doesn't matter if you're wearing branded [things]; it's how you carry yourself. Being confident, being comfortable").
ADVERTISEMENT - CONTINUE READING BELOW
The actress might be climbing the fame ladder at a rapid pace, but she's still the same schoolgirl from Sasa, Davao.
She once dreamed of becoming a flight attendant and traveling around the world, "Or maybe a singer, because I'm a frustrated singer!" she jokes, but the truth is that Erich loves being an actress. "Every day, you discover something. You get to meet a lot of people," she says.
And the best part? She replies, "Nagiging role model ka."
Erich is part of the cast of Tanging Yaman, which co-stars her good friend and rumored boyfriend Enchong Dee (CLICK HERE). "When it comes to work, we're very comfortable with each other," she says. "There's no awkwardness at all, and we trust each other talaga. I'm very happy na siya ang katrabaho ko. We have a solid friendship."
Visit Cosmo.ph to check out the behind-the-scenes photos and video from Erich's March 2010 cover shoot, and read about the 10 things she'd love to do this summer. Meanwhile, her co-star Enchong Dee (Cosmo's "Man On Fire" for March) talks about the 10 things he doesn't understand about women.