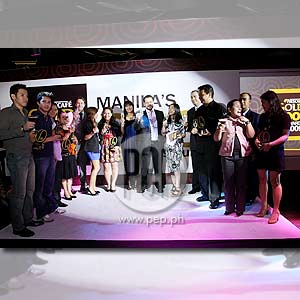 IMAGE 0
---
Who says 13 is a bad number? At the 2009 Nescafé Gold Spot awarding ceremony held last March 17 at the Encore club, The Fort Strip, Taguig City, 13 was a very lucky number indeed.
Thirteen restaurants gained top awards in the Gold Spot awarding ceremony, which recognized the best dining places in Manila for the second time around. Featured awards included Restaurant of the Year, New Restaurant of the Year, Best Service, and Best Restaurant Chain.
The Gold Spot awards is the result of a partnership between popular coffee brand Nescafé and Spot.ph, sister site of pep.ph.
According to Logan O'Brien, consumer marketing manager for Nescafé's Coffee Business District, the special recognition is "really, truly about recognizing the dining standards we have here in Manila."
"The unique hospitality that you get from the Philippines compliments the awesome cuisine that you get here. I came here about a year or so ago and I was just blown away. I spent time at home over Christmas and there were two things I missed: one was my friends and two was the food here. Some of the best that I had," the Nescafé officer from New Zealand said.
O'Brien explained the nomination and judging process that led to the final list of winners.
"Initially the full list of nominees was given to us by the public to Spot.ph, over our initial nomination period which happened last year. You can nominate any restaurant you like. And we put them over a range of categories, and then we go through with them with the judges, and then we narrow them down through a select few that really performaed well against a range of criteria," he said.
ADVERTISEMENT - CONTINUE READING BELOW
O'Brien added, "It's a huge amount of work in behalf of the community of bloggers, community of voters and the judges."
The panel of judges was composed of Yummy editor-in-chief BeckyKho, Chefs Him Uy de Baron and Aileen Anastacio, popular blogger Franco of Table for Three Please (awarded Best Food & Beverage Blog by the 2009 Philippine Blog Awards), food writer and SPOT.ph food bloggerJJ Yulo and actress and foodie Cherie Gil.
According to Spot.ph, over 270,000 online votes were cast for 55 restaurants in 11 categories from December 1, 2009 to January 31, 2010. Winners for New Restaurant of the Year and Restaurant of the Year, on the other hand, were selected solely by the panel of judges.
THE WINNERS. Cuisine Awards:

Best Japanese: Inagiku
Best Chinese: Shang Palace
Best Filipino: Abe
Best Italian: Paparrazi
Best Steakhouse: 22 Prime
Best Buffet: Spiral
Best Deli: Santi's Delicatessen
Best Dessert Place: Cupcakes by Sonja
Best Bar: Cav Wine Bar and Resto
Determined solely by the readers through mobile and online votes, Cibo emerged as the big winner for the People's Choice Awards:
Best Restaurant Chain: Cibo
Best Service: Cibo
The panel of judges decided on the winners for New Restaurant of the Year and Restaurant of the Year:
New Restaurant of the Year: Lusso
Restaurant of the Year: Lolo Dad's