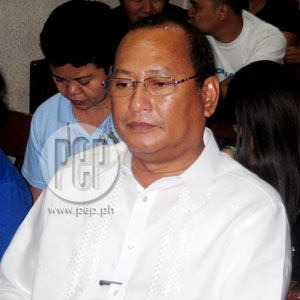 IMAGE 0
---
Jason Ivler's camp is employing "every available tactic" to delay court proceedings, claims the father of road-slay victim Renato Ebarle Jr., at the pre-trial conference in the Quezon City Regional Trial Court on March 2.
Palace Undersecretary Renato Ebarle Sr. told the press that the murder suspect, who's still confined at the Quirino Memorial Medical Center (QMMC) since his arrest on January 18, refused on March 1 a medical procedure that would close his gunshot wounds.
During the hearing, QMMC doctor Romeo Abary told RTC Judge Alexander Balut through a statement that Ivler refused to have his wounds sutured. Ivler also asked for a second opinion from Dr. Ramon Estrada, a colo-rectal expert from the Makati Medical Center.
"As reported by the doctors of Quirino Memorial Medical Center, I think yung mother or Ivler is refusing to undergo such procedure. So clearly, they would like to employ every available tactic to delay the proceedings of the case," Ebarle said.
Ebarle also feels Ivler does this to avoid being transferred to Quezon City Jail. He said the suspect gets "preferential treatment" in QMMC. Judge Balut allowed on January 27 Ivler's transfer to the city jail, as soon as he is discharged from the hospital.
"The fact that up to now, he is still there in the hospital, so masasabi ko na he wants a preferential treatment na manatili siya dun sa isang aircon na kuwarto, nasa ospital. Ang balita nga, as stated by the doctors in the last three hearings, naglalaro pa ng computer sa loob ng kuwarto," Ebarle said.
ADVERTISEMENT - CONTINUE READING BELOW
But Atty. Alexis Medina, Ivler's lawyer, denied that they are trying to delay court proceedings. What Ivler wants, he said, was to "fully recover" before attending any hearing.
Medina said his client's intestines were severely damaged as a result of the shootout with elements of the National Bureau of Investigation, which led to his arrest, last January 18.
"His interest is full recovery from his wounds so that he can stand trial. If he is dragged into trial before he fully recovers, his conditions might worsen, and that will only further delay the trial. So it is not true na nagde-delay lang kami," Atty. Medina told the press.
Atty. Medina also stressed that Ivler's "right to life" is more important than the prosecution's right for a "speedy trial."
"We would like to make it clear that the accused is not seeking any preferential treatment. What he is seeking is simply what is guaranteed to him by the Constitution and by the laws which is presumption of innocence until proven guilty, humane treatment while under detention, and due process of law," he said.
The QC court, on the other hand, has allowed Atty. Romeo Alcantara, counsel for the prosecution, to send a doctor of his choice to check on Ivler's condition, provided that the doctor is also an expert on colo-rectal problems.
The next hearing is set on March 23.