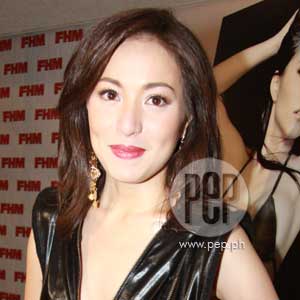 IMAGE 0
---
This March, FHM, the country's number one men's magazine, is successfully turning 10. And the best way to celebrate this milestone is to award the most sizzling ladies who nursed it on its way to the top.
In FHM X, a special collector's edition just for the season, the magazine's hardworking staff listed their choices for the Top 25 hotties who defined FHM's first decade, handpicked from over 1000 women who posed for the magazine since 2000.
The condition? The girl must be very, very, very hot to have appeared on FHM's cover at least once.
Ready? You can now buy the magazine, available in bookstores and magazine stands nationwide. For the meantime, you can read the list below.
Cristine Reyes
Katrina Halili
Angelica Panganiban
Assunta de Rossi
Dina Bonnevie
Bianca King
Iwa Moto
Diana Zubiri
Valerie Concepcion
Rufa Mae Quinto
Cindy Kurleto
Sunshine Cruz
Ehra Madrigal
Patricia Javier
Cristina Garcia
Angel Locsin
Eula Valdes
Jean Garcia
Joyce Jimenez
The Viva Hot Babes (Maui Taylor, Katya Santos, and Asia Agcaoili)
Francine Prieto
Maureen Larrazabal
Jackie Rice
Aubrey Miles
Bangs Garcia
HEY THERE, SEXY. PEP.ph asked the lovely ladies how they feel about being part of the 25 hotties who defined a decade of FHM. Here are their answers.
Rufa Mae Quinto: "I never really thought that I am sexy! Haha...! Thanks to all the guys out there for giving me the inspiration, strength and perseverance to maintain my sexiness not only to my body but also to my heart, mind and soul! I love you FHM! I love all the people! Thanks!"
Jackie Rice: "The world is a big place and there are a lot of beautiful women in it, so I feel honored! Im sure any man or woman would be flattered being called one of the sexiest! I don't see why I have to justify myself being happy about being called sexy, I feel elated about it. Sexy is not about wearing sexy clothes, its about knowing sexiness is a state of mind!"
ADVERTISEMENT - CONTINUE READING BELOW
Bianca King: "I am very flattered!!! Thank you to all the FHM readers!"
Aubrey Miles: "I am very proud for being in the 25 sexiest and inspired at the same time, this recognition makes me work harder... its all worth it!"
Jean Garcia: "Its just amazing how FHM put together the sexiest women in their pages, but making me part of the top 25—of the decade? I feel great, I feel a bit queasy, I feel honored, and yeah, I feel sexy about it! Not too many women or moms like me realize that its never about your age, our your status in life. My secret is simple: it's about how you love and give importance to yourself and making sure that you're also loved!"
Iwa Moto: "I am flattered and honored! I didn't expect to be chosen as one of the sexiest of the decade. I am very happy to be part of the list!"
Cristine Reyes: "I am so flattered that I am part of the list! Thank you for all the love and support! I love all the supporters and readers!"
Eula Valdes: "I feel elated being noticed. Though I don't work out and watch my health to please anybody, I do it for myself and my kids. I want to do a lot of outdoor sports with them!"