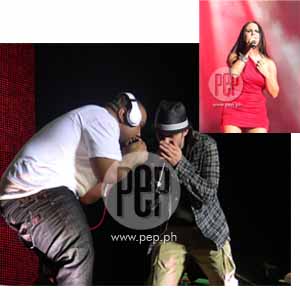 IMAGE 0
---
"Timothy, where have you been!!!"
Waiting seemed like forever before Timbaland emerged on stage, opening his concert with a single featuring Jet from his Shock Value II album.
The American Grammy Award-winning record producer was greeted by thousands of Pinoys dancing and screaming his other nickname "Timbo!!!"
Changing Lives: Timbaland Presents the Shock Value II Tour was held last March 27 at the MOA concert grounds, showing the coolest collaboration in the world's music scene.
After his opening song, Timbaland performed "Say Something (This Shit Was All I Know)," which featured Drake on the screen, then "Give It Up To Me," which had the voice of Shakira, and "Give It to Me," which showed his music video with Nelly Furtado.
"Are you still with me?" After hearing the huge crowd's "Yeah!" he began swinging his hips while rendering "Oh Timbaland." He didn't have the moves like the other rappers, but the 38-year-old artist surely had the charm, which instantly endeared him to the Filipino audience.
His duet numbers, "Can You Feel It" and "Tomorrow in the Bottle" (featuring Nickelback's Chad Kroeger) with his brother Sebastian also earned an energetic reaction from the hip-hop fans.
But it was "If We Ever Meet Again," with Katy Perry on the screen, that got the youngsters singing along with Timbo.
Teens also began to "Lose Control," with the entry of JoJo, who went on to sing "Too Little Too Late"—a 2006 hit from her sophomore album High Road—after her duet with Timbaland. Some people were exclaiming "Bitin!" because her exposure only lasted about eight minutes.
ADVERTISEMENT - CONTINUE READING BELOW
The entire concert turned into a screamfest the minute Justin Timberlake appeared on stage.
"What's your name? Girl, what's your number," two lines from "Carry Out"—Timbaland's recent work with Justin—tickled and flirted with the Pinays.
And as promised by the organizers—N91LIVE and All Youth Channels, Inc.—the 29-year-old singer-actor dished out eight songs in his repertoire: the 2002 hit from his solo debut album Justified, "Cry Me A River," including hit songs from his sophomore studio album FutureSex/Love/Sounds, like "Until The End Of Time," "My Love," "What Goes Around Comes Around," "Love Stoned (I Think that She Knows)," plus the Nelly Furtado-piece "Promiscuous Girl."
Mesmerizing and captivating aptly describe Justin Timberlake's set. His famous falsetto, skills on the keyboard and beat boxing, dance moves, and of course, dashing looks, kept the audience glued to the stage. His last piece was "SexyBack," his first Number One single on the Billboard Hot 100 and most successful work with Timbaland. Naturally, the people yelled "More!!!" but he never returned for an encore.
As for the main man Timbaland, he surely earned an additional throng of Pinoy fans after the concert. Even the non-hip-hop fans found themselves enjoying the loud, urgent, and pulsing tracks, with some gyrating moves from the guy considered a formidable force in the R&B and hip-hop genre.
"Manila, do you love me?" went one of the songs he created specifically for the Pinoys. The answer, of course," was a loud "Yes!"
SPOTTED. Stars who were seen enjoying the concert were Gary Valenciano, Donita Rose, Iza Calzado, Karylle, Derek Ramsay, Angelica Panganiban, Zanjoe Marudo, Rhian Ramos, Maxene Magalona, Iya Villania, Drew Arellano, Raymond Gutierrez, Rayver Cruz, Kris Lawrence, Gab Valenciano, Georgina Wilson, Sarah Lahbati, Enzo Pineda, Carla Humphries, Chris Tiu, AJ Perez, Rodjun Cruz, to name a few.
ADVERTISEMENT - CONTINUE READING BELOW