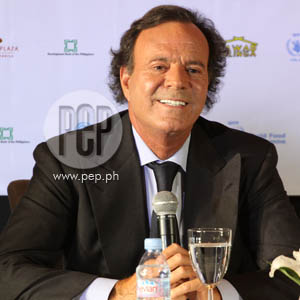 IMAGE 0
---
God is good to Julio Iglesias.
In 1963, he was involved in a car accident that nearly left him paralyzed. Although his doctors ruled that he may never move or walk again, his strong will and determination—honed through his being a goal keeper then for the Real Madrid football team—pushed him to be on his feet again and recover his strength.
A big factor on his road to recovery was his discovery of his love for music. Julio began to study guitar-playing while on his hospital bed to develop and increase the dexterity of his hands. Later on he began singing, and this newfound love for music brought him the Benidorm International Song Festival championship title and a record deal with Discos Columbia, Spain's branch of the U.S.-based Columbia Records.
After winning in Spain and signing a record deal in 1968, Julio began his 42-year music career with number-one hits in Europe and later on in the U.S.
Among his many hits were "Hey!," "Moonlight Lady," "To All The Girls I Loved Before," and "All of Me."
To thank God for being so good to him, Julio has been very active in charity work. In fact, in 1989, he was even given the title Special Ambassador for the Performing Arts by the UNICEF for his continuous support to the United Nation's relief missions in different depressed and calamity-stricken countries around the world.
HEART OF GOLD. January of this year, when Julio kicked off his Starry Night World Tour, and on March 20, 2010, Saturday, the Spanish crooner who has sold more than 300 million copies of his 79 albums and is a recipient of 2,600 platinum and gold records, will be singing with the Megastar Sharon Cuneta at the Araneta Coliseum in a benefit concert titled Heart of Gold.
ADVERTISEMENT - CONTINUE READING BELOW
Proceeds of this benefit concert will go to the victims of the typhoons Ondoy (international name: Ketsana) and Pepeng (international name: Parma). These typhoons devastated the country during the latter part of 2009, leaving hundreds of people dead and homeless and over P100 million in damages. Julio has volunteered to waive his talent fee and the Big Dome likewise has waived its rental fee to help in raising funds for the victims.
In a press conference held at the Sofitel Philippine Plaza Manila yesterday, March 18, Julio expressed his excitement for being back in the Philippines to perform again. "I have performed here numerous times, I've lost count already," the Spanish crooner said. "But I think, the first time I performed here was in 1971."
His past performances in the Philippines were among his more than 5,000 concerts in over 600 cities around the world.
Julio said the Filipino people are very special to him and have a special connection with him. "I have three children who are also Filipinos."
He was referring to his children—Spanish journalist Chabeli Iglesias and international pop stars Julio Iglesias Jr. and Enrique Iglesias—with his Filipina model and journalist wife Isabel Preysler. Julio and Isabel met in 1970 and got married in 1971. They divorced in 1979, but the Filipino influence on Julio, he confessed, stayed with him.
"Back home, we still eat adobo, we still eat pancit and lumpia. It stayed with me. So I guess, I am also Filipino," Julio declared. In fact, he said, when he arrived in the country a few days ago, he requested for pancit and lumpia right away from the people of Sofitel Philippine Plaza Manila, where he is staying while in Manila.
ADVERTISEMENT - CONTINUE READING BELOW
About his special guest for his Heart of Gold concert tomorrow at the Big Dome, Julio said he maintained a close friendship with the Megastar ever since they performed a duet years ago. Sharon and Julio will be performing "All of You" and "When You Tell Me That You Love Me" in tomorrow's concert.
The concert is also in celebration of the Araneta Coliseum's Golden Year Anniversary, and one of the Big Dome owners Don Jorge and Madam Stella Araneta's way of giving back to the people who were the primary reason for the existence of the country's mecca of sports and entertainment.
The Araneta Coliseum has been the venue for some of the biggest and most important events of the 20th century, which include concerts of international celebrities like Nat King Cole, Neil Sedaka, Andrea Boccelli, and Bon Jovi. It was also in the Big Dome that the match between Muhammad Ali and Joe Frazier—dubbed as the greatest boxing match of all time—was held in 1975. To this day, the Araneta Coliseum continues to hold its reputation as the premiere show palace of the Philippines.
For ticket information and reservation for this one-night only benefit concert, call 911-5555 or log in to www.ticketnet.com.ph