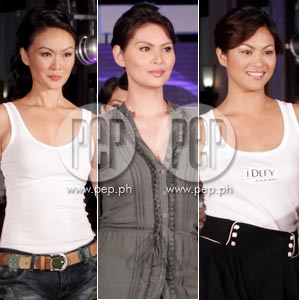 IMAGE 0
---
Staying young and beautiful need not be expensive.
Ask the former beauty queens about their "staying-young-and-beautiful" secrets, and they would underline "being happy" as the most effective ritual.
To quote 1992 Bb. Pilipinas Maja International Marina Benipayo: "A happy disposition and peace of mind...[Beauty] is not only external but also internal."
1997 Pilipinas-Universe Abbygale Arenas says on a similar note, "Happiness is basically my secret [to] youthfulness. I see to it that I stay away from sadness, really stay away from problems. I really don't get drowned by problems..."
And it wasn't as if they were merely answering a question in a beauty pageant. These ladies were talking from experience. More than a decade since they relinquished their crowns, they still have the looks that could make heads turn.
1999 Miss Universe First Runner-Up Miriam Quiambao mentioned the need to look into "spiritual beauty" as well. She said, "I read my Bible and pray, pray that I don't age too fast."
ADVERTISEMENT - CONTINUE READING BELOW
BEAUTY TIPS. But changing one's perspective about beauty is not enough, of course. "We have to do something to protect and maintain our beauty," Miriam advises.
"I clean my face after every show. If I don't need to put on makeup, I don't put on too much. Then I go to monthly facials, I hydrate, and moisturize," she shares.
A must in the regimen of Abbygale, who is said to resemble famous model Linda Evangelista, is "drinking two glasses of water upon waking up" to cleanse her body of toxins. "I take fiber, yung hinahalo sa juice...I can't say I don't eat because I do. I do eat a lot!" the wife of photographer Jun de Leon reveals.
Another tip from Abbygale: Smile. "It's my son and husband's job," she said, smiling. "Find something that you like that so that you get to enjoy your life every day. Kasi sa 'kin yung work, it has to be very enjoyable. So find something that you like and [it should be] fun."
ADVERTISEMENT - CONTINUE READING BELOW
Marina also puts emphasis on what a "smile" can do to one's face. "It takes a fewer muscles to smile. Stay positive, and think of problems as challenges. Make sure you also use the right products for your skin."
STAY-FIT TIPS. Stayingsexy is a tacit requirement for beauty titlists. In Marina's case, she has remained slim even after giving birth.
Her fitness routine: "One source of fountain of youth would be exercise, diet...I go to the gym three times a week. I do aerobics with leg raise, that's it—cardio, just cardio. And I watch my diet, not necessarily not eating but avoiding low sodium and low carbo."
Abbygale admitted she eats a lot. "I eat a lot with friends, I try to enjoy food with friends. But when I'm all by myself, I can just eat cereals, and that's dinner already. Pero when I'm with my husband and my sons, then I eat!"
ADVERTISEMENT - CONTINUE READING BELOW
To burn the calories, "I do Yoga by myself every morning. Well, pag masipag ako, I do 45 pero usually, 30 minutes. Well, I try...I try to wake up in the morning. Habang nagbe-breakfast yung anak ko, nagyo-Yoga ako sa tabi niya," Abbygale said.
Miriam's workout is more regimented. She goes to the gym almost two to three times a week.
To encourage those who find gym workouts boring, the Kapamilya star shared, "If you work out, you sweat all the toxins, you feel more energized you feel healthy, plus, your mind is healthier and clearer."
A good alternative to treadmill is outdoor running. "I join mga marathons since December, and I've improved my time on the 5K distance. Now, I'm progressing to 10K," she beamed.
When it comes to food, "I do my best to live healthy by eating well [and] hydrating with water."
To elaborate, "Eat right, because what you eat becomes you. So if you eat trash, it will come out in your face. If you eat well, a lot of vegetables and drink juices, and a lot of water, and organic juices and water and take vegetables, then your skin will also look fresh."
ADVERTISEMENT - CONTINUE READING BELOW
Lastly, she seconded what Marina and Abbygale said, "Just be happy, do what makes you happy, it's a sure fire way to stay youthful."