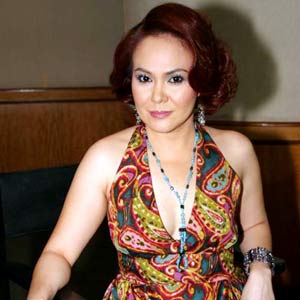 IMAGE 0
---
Japayuki is a Japanese slang term coined in the late 1980s to refer to Filipinos working as entertainers in Japan. The term took a derogatory turn when some of these entertainers were found to be working as prostitutes, or were forced to engage in the sex trade by unscrupulous talent recruiters.
Maritess Temple became a Japayuki at age 14 in 1984, singing in clubs in Kyoto and Tokyo, chaperoned by her mother Linda. Seven years later, Maritess would record the song "Japayuki," written by Vehnee Saturno, under WEA Records, giving a face and a voice to the marginalized group of migrant women workers who, like her, went to Japan to work for a living and get a life.
"At that time, being a Japayuki was a prestigious occupation. Sosyal ang club na kinakantahan ko sa Kyoto," says Maritess, sipping Margarita and munching chicken in a restaurant in Robinson's Galleria, Ortigas Center. "Marlene dela Peña also sang in that club."
Dela Peña is a jazz singer who became popular in Japan in the 1980s and still reigns there as a pop icon with at least 30 albums to her name. She also trained under Quincy Jones in the U.S. where she recorded four albums.
Like Dela Peña, Maritess showed promise in her music. But unlike the jazz singer, Maritess betrayed that promise when she fell in love with a rich, handsome Japanese businessman almost 20 years her senior. They had two children, a boy and a girl, now both in their early 20s.
ADVERTISEMENT - CONTINUE READING BELOW
"I JUST WANTED TO SING." Maritess returned to Manila in 1988 rolling in Yen and basking in love. Half-heartedly she embarked on a showbiz career, recording her first album, "Maritess," with the carrier single "Don't Change Me," under WEA Records.
"I didn't care much about show business," says Maritess, 40. "That was my problem. "I had no desire to be famous. I just wanted to sing. I wasn't hungry for fame and publicity. I wanted to walk in malls unrecognized."
She approached her career recklessly, not showing up for shows "because I had my own money anyway."
Maritess owned a music bar, Versomina, on Jupiter Street in Bel-Air, Makati. She managed it herself and sang there most evenings.
In 1991, while talking to songwriter Vehnee Saturno, Maritess had a brainwave: Why not record a song about the Japayuki? After all, she was a Japayuki.
"That was the first time Vehnee heard the term Japayuki," Maritess recalls. "I explained to him what it was like being a Japayuki, the prejudices against us, the loneliness."
Japayuki kung kami'y tawagin doon
Pag-awit ang s'yang pakay doon
H'wag naman sanang pulaan at pintasan
Ito ang tangi kong nalalamang paraan
Japayuki, pagbigyan naman ng puwang
The song became Maritess's palpable plea for understanding the Japayuki experience and the album went on to a nomination as the Best Pop Rock Album in the 1991 Aliw Awards.
Maritess, however, remained uneasy about the fame that came with "Japayuki's" success.
"I still didn't have that drive for stardom," she says.
She would have been content with Versomina, but like most businesses of its kind, its popularity began to wane. Versomina lasted only a few years, like her liaison with the Japanese businessman. Her money lasted longer, until a few bad investments, like a pyramiding scam, practically wiped her out.
ADVERTISEMENT - CONTINUE READING BELOW
TRUE GRIT. Maritess sold her house in Parañaque, and her cars, and for the second time in her life, she sang to survive. Maritess went back to Japan to sing.
"I had kids to raise on my own and I sent them to good schools," says Maritess.
She also sent her half-sister to school, according to her mother Linda.
"Money was tight," she admits. "The easiest way to make money was to sing abroad."
She also had gigs in San Francisco and Las Vegas.
"Friends in the U.S. would book me for shows for the Filipino communities there," she says. "That's what I have been doing all these years, singing."
Maritess admits that it would be nice to have a comeback here.
"Not really a comeback," she explains, "but to be able to sing again here. Kung may trabaho, cool lang. Maybe, do a few shows."
She would like to go back to school (she finished only high school at the Sacred Heart Academy) now that her kids are done with it.
"There was a time, I passed the entrance exams at St. Benilde's," she boasts. "But I didn't enroll because it was very expensive and the kids were still going to school. Maybe, I would go back to school now. Take a diploma course in computers then later on shift to a bachelor's degree."
These days, Maritess is self-employed as a Customs broker.
"Wala akong Papa," she says, meaning a patron.
She crawls the malls and watches movies, unrecognized by celebrity watchers. With no make-up and her skin breaking out "because of the heat," she revels in the anonymity of an ordinary mortal.
ADVERTISEMENT - CONTINUE READING BELOW
"I work out in the gym almost every day," she says. "Then I come here to drink Margarita."
She laughs.
"Do I look like I missed out on anything?" she asks.
No. Maritess Temple, former Japayuki, singer, mother, might have missed out on fame and fortune. But she did not miss out on life.