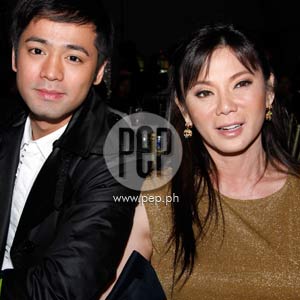 IMAGE 0
---
The ongoing Anti-Violence Against Women and Children Act (R.A. 9262) case filed by Katrina Halili against Hayden Kho has taken a new turn after Hayden left the country to go to the United States. Katrina's lawayer, Atty. Raymund Palad, is questioning why Hayden was able te leave the country despite having a hold departure order because of his ongoing case.
But this issue was answered by Hayden's ex-girlfriend, Dr. Vicki Belo, and Hayden himself in separate interviews with Startalk and Showbiz Central.
"It's always what I've wanted him to do," said Dr. Belo to Startalk. "I always wanted him to go on a spiritual journey. Matagal ko na in-encourage, ngayon lang niya ginawa. Nag-file si Atty. Palad, parang ayaw niyang paalisin si Hayden, and then the judge decided na since there would be no hearings for the whole month of May, e, pinabayaan na siyang umalis."
Showbiz Central, on the other hand, got the opportunity to chat with Hayden and ask him about his controversial departure. Here is Hayden's statement:
ADVERTISEMENT - CONTINUE READING BELOW
"I heard about the news that Palad went out on TV with a press release that my passport will be revoked for sneaking out of the country without permission from the judge. I am surprised that Palad did this. He is aware of my departure exactly because he was asked by the judge to comment on my request and he did not object. Palad knows that I have permission, we are sure of that. It is on paper. So to come out on TV with a press release that I sneaked out of the country without permission gives me a reason to beleive that he wants to perpetuate hate towards me."
Showbiz Central was also able to get a reaction from Atty. Palad through a text message. He said: "On April 27 Hayden filed an URGENT MOTION TO TRAVEL and the same was set for hearing on April 30, at 8:30 a.m. before RTC 159. I filed a Comment that he must post a travel bond. However, the Motion was no longer heard on April 30 at 8:30 a.m. since Atty. Patajo of Kapunan Law Offices told me, when I ment him at QC Hall on April 30 at 9 a.m., that they did not attend anymore the hearing of their Motion to Travel since the Presiding Judge is on official leave."
ADVERTISEMENT - CONTINUE READING BELOW
However, for Dr. Belo, the move made by Hayden was his way of moving on. "Hopefully he can find his life again kasi bata pa siya, di ba? It is early to define his whole life by one incident," she said.