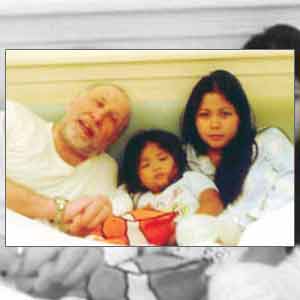 IMAGE 0
---
Robert James Fischer had a very successful career in chess, competing and winning championships just after reaching puberty. The U.S. born (March 9, 1943) Robert, or Bobby, as acquaintances call him, rose to fame by becoming world champion in 1972 after beating Soviet Grandmaster Boris Spassky in Reyjavik, Iceland.
In his later years, Bobby traveled and lived for short periods in Hungary, Germany, the Philippines, and later Japan. His traveling resulted from the falling out he had with the U.S. after he competed and won against Spassky in a 1992 rematch in Yugoslavia, which was then a under a strict United Nations embargo. Since then, he never returned to his home country.
LOVE IN THE PHILIPPINES. In 2000, Bobby lived in Baguio City and became close friends with international master Rolando Nolte, who served as his guide, driver, and confidant.
In an interview with the Manila Bulletin (June 20, 2010), Nolte spoke of the time Fischer met Marilyn Young at the Baguio Country Club 10 years ago.
ADVERTISEMENT - CONTINUE READING BELOW
"The first time Bobby laid his eyes on Marilyn, I knew he was smitten," related Nolte. "Pero, torpe sa babae."
One thing led to another though as Bobby and Marilyn finally entered into a relationship. Their romantic union was blessed in May 21, 2001 when daughter Jinky came into the world.
Nolte added that Bobby had a liking for Pinoy culture and gorged himself on pinoy food like balut and sinigang. He enjoyed watching former Eat Bulaga host Nadine Schmidt and gushed over singer Regine Velasquez.
Nolte also noted that Bobby was a generous friend and father.
"Whenever I asked for a favor, Bobby always granted it," he said. When it came to providing for Bobby's daughter Jinky, he was all-out supportive. "Bobby was in the country every three months and spent a few weeks here. Bobby loved Jinky. He built a house for them in Davao."
CONTROVERSY AND DEMISE. Bobby Fischer had controversial issues to deal with too, however. In July 2004, he was arrested at Narita International Airport in Japan for allegedly using a revoked U.S. passport while trying to board a flight to Manila. It was also reported there that he married Miyoko Watai, an international master.
ADVERTISEMENT - CONTINUE READING BELOW
His falling out with the U.S. prevented Bobby from getting released and the thought of deportation to the country he despised affected him. In his plea to the Iceland government in January 2005 he requested for Icelandic citizenship. His request was granted (since he placed the country on the map with his '72 match with Spassky) for humanitarian reasons and he left for Iceland after two months.
Three years later, in January 17, 2008 the chess master died of renal failure in a Reykjavik hospital. He left behind a fortune worth about US$2 million, which immediately became the subject of a legal battle between Jinky, Bobby's presumed wife Miyoko, Bobby's nephews in the States, and the U.S. government for unpaid taxes.
FILIPINO DAUGHTER MAY GET FORTUNE. Two years after Bobby's death, developments are in favor of his daughter Jinky, who is now nine years old. An Iceland judge's decision allows her to take a DNA (Deoxyribonucleic acid) sample from her father's grave in Selfoss, Reykjavik to prove that she is indeed Bobby's child.
ADVERTISEMENT - CONTINUE READING BELOW
Jinky's mother Marilyn said that she was happy over the decision. In a separate interview with the Manila Bulletin last June 17, the 31-year old.mother said, ""Natutuwa po ako na pinayagan din kaming patunayan na si Bobby (Fischer) ang ama ng aking anak."
Jinky's laywer Sammy Estimo described the ruling as a breakthrough in their case.
"We expect a quick resolution. As we speak, our lawyer [Thordur Bogason] in Iceland is now preparing a motion to schedule the exhumation," said Atty. Estimo.
Iceland's Supreme Court has also ruled out Bobby's supposed marriage to Miyoko Watai, leaving the battle between Jinky and Bobby's nephews in the U.S.
Atty. Estimo also stated that they have much evidence to prove that Bobby was Jinky's father. "We have letters, photos and bank transfers that show Fischer is supporting Young," he said.
If Jinky wins, she will get about P140 million from her famous father.
ADVERTISEMENT - CONTINUE READING BELOW