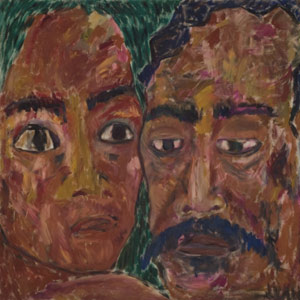 IMAGE 0
---
The Cultural Center of the Philippines, in cooperation with Pixel
Grain, presents an exhibit of paintings by the late Johnny Delgado at
the Pasilyo Guillermo Tolentino (3rd Floor Hallway) on July 10-20,
2010 at 5:00 p.m.
Delgado, whose real name is Juan M. Feleo, was a self-taught painter. A multi-awarded and highly respected actor, Delgado had famously
portrayed a painter in the film Mga Uod at Rosas.
His exhibit, which is titled Maskarang Totoo: The works of
Juan M. Feleo, will showcase paintings that he created mostly in the last two years of his life. His works celebrate his colorful life, which he led with the other artists, and unmask as well a probing interest in Catholic lore and spirituality.


The 10-day display is part of the 6th Cinemalaya Independent Film Festival and Competition, which will run from July 9 to 18 at the CCP.


Admission is free. For particulars, please call CCP Visual Arts at
Tel. 832-3702, Tuesdays to Fridays, 9:00 a.m.-6:00 p.m.