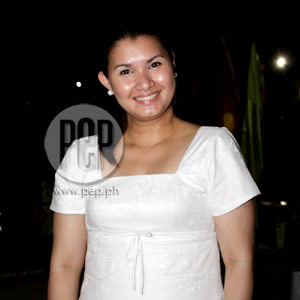 IMAGE 0
---
Actress Rochelle Barrameda had to sell a part of her collection of branded bags and pieces of jewelry to finance the case against the suspects in the murder of her youngest sibling, Ruby Rose Barrameda-Jimenez.
Rochelle, 33, told PEP (Philippine Entertainment Portal) in an exclusive interview on Thursday morning, June 10, that she also had to take out a loan from the bank after she depleted her savings and time deposit accounts.
"Talagang nahihirapan na kami sa gastos," she admitted.
She estimated her expenses to be already in the millions, but she vows that she would pursue the case to end.
"It is my obligation to find justice for my sister," Rochelle said. "I know she will do the same for me. I also know it's a long battle, but my faith in God keeps me going. For example, when I find myself short on money, I would be offered a role in a television show. I know that is God giving me what I need."
The family has decided to seek free legal help from a pro bono lawyer, according to Rochelle.
"We really can't afford the costs anymore," she said.
THE SEARCH FOR RUBY ROSE. Before she was found dead inside a steel drum fished out of the Navotas waters on June 10, 2009, Ruby Rose, then 27, had vanished in March 2007, three months after she separated from her husband Manuel Jimenez III. She was supposed to have gone to visit her children in her father-in-law's house where they lived when she failed to return to Rochelle's home in Las Piñas.
ADVERTISEMENT - CONTINUE READING BELOW
Ruby Rose had moved in with Rochelle's family after she separated from Manuel III and filed a Temporary Protective Order against him. The TPO was dismissed in February 2007, and Ruby Rose disappeared the following month.
The Barrameda family searched for Ruby Rose for two years. At first, the Jimenez family was cooperating with them, according to Rochelle.
"My mother [Asuncion] would go to the provinces and consult with psychics for leads on Ruby Rose's whereabouts," she said. "She did that because we didn't know where to look for her."
The trips alone already cost a lot of money, Rochelle said.
"We were desperate to find Ruby Rose," she said. "The police had no leads...the Jimenez family refused to talk to us. We didn't know what to do anymore."
Rochelle's father Robert is a retired member of the Philippine Air Force. Her mother Asuncion is a retired school teacher. Both rely only on their pensions.
"Nakakahiya na talaga kay Rochelle," Robert Barrameda said to PEP. "Siya lang halos ang gumagastos. Meron na siyang sariling pamilya. Dalawang anak niya nag-aaral na. Kakapanganak lang niya."
Robert said Rochelle had not been active in showbiz after she gave birth to her third child. She got pregnant a month after Ruby Rose's body was found in her watery grave. She and her husband Jimwell Stevens only have a small car wash and restaurant-bar for their livelihood, he added.
THE ACCUSED. Until they were turned over to the custody of Gen. Roberto Rosales, chief of the National Capital Region of the Philippine National Police, the family of Manuel Montero, one of the accused who led police to Ruby Rose's body, was also being supported by the Barrameda family by means of "food and toiletries."
ADVERTISEMENT - CONTINUE READING BELOW
Montero had told police that he received orders to kill Ruby Rose from her husband Manuel III's uncle, fishing magnate Lope Jimenez, stuff her body inside a steel drum, pour cement on it, and seal it by welding the cover, and tossed it in the waters of Navotas.
Based on his testimony, Lope Jimenez, Ruby Rose's father-in-law Manuel Jimenez Jr., Eric Fernandez, driver of Lope Jimenez, Robert Ponce, and Lennard "Spyke" Descalso, bodyguard of Manuel III, were charged for the murder before the Department of Justice. Manuel III, however, was not charged.
But in March this year, then DOJ Secretary Agnes Devanadera ordered the filing of formal parricide charges against Manuel Jimenez III even as she dropped the charge against Lope Jimenez.
Rochelle said dropping the charge against Lope weakened their case since Montero had specifically identified him as the one who gave the order to kill Ruby Rose and get rid of her body.
PROTEST RALLY. This development, as well as the stalled hearings for the case, prompted the Barrameda family to stage a protest rally in front of the DOJ offices on Padre Faura Street in Manila on Thursday morning. The last time a hearing was conducted was last March 19.
An arrest warrant has yet to be issued against the accused, most of whom have already disappeared. Only Manuel Jr. surrendered himself to police but is now under hospital arrest.
Members of the militant group Gabriela and Volunteers Against Crime and Corruption, some students from Perpetual Help College where Ruby Rose finished her degree in Mass Communications, and members of a church group of Ruby Rose's mother Asuncion swelled the crowd of about 50 people.
ADVERTISEMENT - CONTINUE READING BELOW
VACC chair Dante Jimenez showed to television crews who covered the rally a makeshift drum and cement casing and a pair of police handcuffs that looks exactly like the one used to bind Ruby Rose's hands. The group also lighted candles to signify hope that the Barramedas' search for justice would remain relentless.
"I will not stop," swore Rochelle Barrameda even as she confessed that protest actions are also a drain on her dried-up resources.
"Syempre, kailangan ng pagkain, pang-gasolina," she said. "They do not ask anything from me, pero hindi naman puwedeng walang pagkain. Nagugutom din naman sila. Mahirap mag-rally, tumayo sa ilalim ng maiinit na araw."
But more than the financial burden, the family is also suffering emotionally, especially Rochelle who was particularly close to Ruby Rose.
"There is not a single day that I do not cry for my sister Ruby Rose," said Rochelle Barrameda. "Every time I think of the case, I cry. I have to have something that she owned to carry with me every day. That's how much I miss her. We were very close. There was not a day that we did not talk, a week that we did not go shopping together."
The sisters shared the same passion for designer bags and expensive jewelry. Rochelle was wearing a pair of diamond stud earrings that she said had belonged to Ruby Rose.
"This way, I am keeping my sister alive," she said.