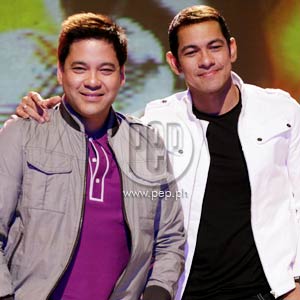 IMAGE 0
---
There was a time when Gary Valenciano and Martin Nievera were both on top of the OPM landscape.
Although carrying contrasting genres and image—with Martin as the balladeer and Gary as the total dance-and-sing package—the two were touted by the media as "rivals."
Gary said that the supposed competition stemmed from their ability to sell records and to fill concert venues consistently.
"We always try to outdo each other especially during concerts," recalled Mr. Pure Energy. "Remember that this was during the '80s and concert technology at the time here in our country was not yet advanced."
Nearly three decades since the rivalry and with both artists achieving iconic status in the local music industry, Martin and Gary are working as a legitimate tandem rather than separately. They still have their respective careers to think about, of course. But seeing them share one stage since last year's successful AS1 concert has become a welcome move to everyone familiar with their story.
MUTUAL RESPECT. "We've always had appreciation for each other ever since and the competition before was very healthy," Gary remarked in a conversation with PEP (Philippine Entertainment Portal) held recently at ABS-CBN's Dolphy Theater.
"It was actually needed because it kept us on our toes. But of course you have the fans who took it to a different level and the media also. But through it all the people behind him and the people behind me, we were always guided correctly. Tama si Martin, we were always cautious of listening to the people or management so it really helped us to look at each other as true artists and not get caught up with the so-called rivalry."
ADVERTISEMENT - CONTINUE READING BELOW
Martin confirmed Gary's statement saying that the competition was "never personal" and that it was beneficial for their respective burgeoning careers.
"Rivalries fascinate the public and it helped us to be better and appreciate what we have even during those days," the Concert King continued.
INTERNATIONAL BID. The similarities in Gary and Martin's career path include an attempt to make it big even in the international arena.
While it's not accurate to brand their respective efforts abroad as "failure," both performers never concealed harboring mixed feelings with the turnout of their dreams.
Several years ago Gary was on the verge of breaking out internationally as a recording artist when he was confronted by a serious personal dilemma: should he pursue his dream or let it go to spend more time with his growing family?
Gary chose his family.
"When I looked back siyempre meron ding regrets. But when I look at my children and see them now mas sayang siguro kung binalewala ko 'yong oras with them and mas binigyan ko ng importansya 'yong career. But on a personal standpoint parang feeling ko kung kailan pa dumating 'yong pagkakataon na pati ang pamilya ko masusuportahan ko that's when I felt I didn't grab it," Gary said seriously.
Martin's own attempt to make it overseas also ended in disappointment. The Concert King's series of concerts in Las Vegas was initially full of promise before collapsing when the promoter pulled the plug unceremoniously. Martin tried to carry on by financing the remaining dates but the burden proved too much in the end.
ADVERTISEMENT - CONTINUE READING BELOW
The modern landscape for aspiring local singers hoping to be noticed abroad is much different with the advent of modern technology and free access to various social networking tools—innovations that were absent during the time Martin and Gary were both trying their luck outside the country.
Martin is not one to offer any excuses saying that opportunity and success comes to an individual regardless of whatever available resources.
Explained Martin: "If a YouTube video of mine got me big abroad then yes it would have been worth it. But we didn't have that. We didn't enjoy that. I would say it's easy because there are a lot of people on YouTube who made it but there are also a lot who didn't make it. It's really when it is your time, it's your time.
"Whether you have YouTube, inner tube or tubeless or whatever, when it's your time it's your time and I guess our time came that way and it came how it came. The secret now is how to keep it, how to hold it and how to pass the baton to others."
PASSING THE TORCH. Gary likewise felt that part of their responsibilities now is to guide the younger generation of singers and artists.
"I only hope the younger artists grab the torch," said Gary. "There are major lessons that both Martin and I have learned throughout the years that we want to put across and hopefully the young ones would also carry that so that it doesn't become a kanya-kanya thing. There is a need to be unified even if you are rivals to a certain extent."
ADVERTISEMENT - CONTINUE READING BELOW
But other than serving as father figures to the new generation of artists, both Gary and Martin would still love to stretch their wings and pursue a number of dreams left unfulfilled.
"There are things that I'd like to do on a personal standpoint," mentioned Gary. "I'd like to go into producing short stories and I want to produce more albums not just for myself but for other artists as well."
As for hosting—Gary and Martin are hosting ABS-CBN's newest weekend primetime game show, Twist and Shout—Mr. Pure Energy said it's a career he would love to explore more together with Martin.
"If I would do another game show," smiled Gary, "I would like it to be with him."