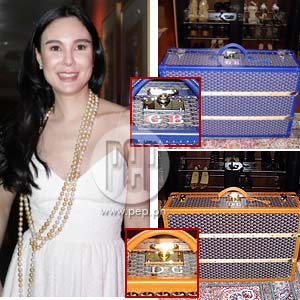 IMAGE 0
---
The current rage among the bag-a-holics is this luxury Parisian brand called Goyard, which has invaded Hollywood with Cameron Diaz, Jessica Simpson, Hillary Duff, Nicole Ritchie, Nikki Hilton, to name a few, joining its rich-and-famous clientele.
The website luxandthecities.com wrote that the 157-year-old Goyard is "a favorite amongst real life royalty and fashion's elite, with the Grand Duke of Russia, the Duke of Windsor, and Chanel designer Karl Lagerfield [as] proud owners of Goyard cases."
Two months ago, it released 223 numbered books celebrating its history that dates back to 1853, when the Goyard family shifted from being wood transporters into trunk makers of the aristocrats. The limited-edition tome comes with its very own bespoke trunk.
And the whopping price tag? It's around $7,250, or roughly 333,000 pesos. The trunk is custom-made to order, available in 12 colors, and personalized.
In the Philippines, two ladies have these Goyard trunks: Gretchen Barretto and Dominique Cojuangco. The partner of Gretchen, Tonyboy Cojuangco, bought them in San Francisco.
With La Greta's permission, PEP (Philippine Entertainment Portal) now gives you an idea on what these bags look like.
And should you want to have your own Goyard, here are some "anti-fake" pointers:
The blend of cotton, hemp and linen—from which the bags are made—should be coated with resin.
The bags are handpainted.
The dots should feel like they were embossed on the fabric. The prints on the imitations are machine-made so they are flat.
Goyard handbags that have black leather trim are stitched with black thread. Any other colors of trim should have white stitching.
The brand has only 12 retail stores worldwide—Paris, Beverly Hills, Boston, Hong Kong, Kyoto, London, New York, Osaka, San Francisco, São Paulo, Seoul and Tokyo—and attracts buyers without spending heavily on advertising.