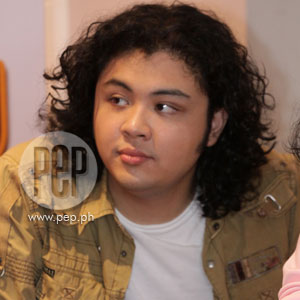 IMAGE 0
---
The eldest son of Martin Nievera and Pops Fernandez is branching off to a new venture. Robin Nievera, a musician like his parents, now wants to be a VJ.
PEP (Philippine Entertainment Portal) talked to Robin this afternoon, June 15, at the TYA Bar in Quezon City during the press launch of MYX VJ Search 2010. Robin is one of the 12 finalists who are competing for a chance to work in the Pinoy music channel.
Robin told PEP he joined the competition without the influence of his prominent parents. Martin, in fact, is not in the country.
"So I haven't really talked to him properly about this whole thing," Robin said.
"But he gives me tips," he readily added. "You know, through text lang, I haven't talked to him yet."
But is it true that Robin got in the final 12 because of the influence of Martin and Pops?
"I doubt that. Dad's not even here. So they wouldn't do that," he said crisply. "No. Not my dad, not my mom. I think, uh, I don't know what they saw in me. I hope they like me."
Robin's popular parents, however, are very supportive of all of his ventures.
"They're very supportive. If I didn't get this, they'll be like, 'It's okay, there's something else,'" Robin said.
But Robin wants to clarify, no fan should vote for him just because he is the son of their idols.
"I really don't want that to be a factor. I know the fans will vote just because I'm their son. I really really hope that they watch not just me, but the other 11. They're all really good. No bias," he said.
ADVERTISEMENT - CONTINUE READING BELOW
WHY HE WANTS TO BE A VJ. Robin said he wants to carve a name in the music industry using his own God-given talents.
"I'm still nowhere near their stature. They're like big," Robin said about his parents. "I don't have a career yet. I am writing. I really want to do an album with just me. I also want to do another album with my band Wagyu."
Robin is currently the guitarist and vocalist for the indie band Wagyu. Music is in his blood, he said. Aspiring to become a VJ is just natural.
"I've always watched other shows, VJs, you know? It's a fun job. You can be goof, talk about music, which is what I do on a regular basis," he said.
But even so, Robin said he doesn't expect to win.
"No way. I didn't even expect to get in. Yeah, when they called me, I was like 'Really? That's nice.'"
WAGYU. Wagyu, a name that sounds like the name for a Korean beef dish, was not named "after the beef." "We're just being silly!" laughed Robin.
He added, "We have no specific genre for it. It is rock, it is indie rock. Some people say alternative, some people say prog, progressive. I call it indie rock."
Robin said he does not sound like his parents when he sings. "When it's Wagyu, I sound like...I don't even know. People say I kinda sound like John Mayer; I disagree with that. But I don't really know."
ADVERTISEMENT - CONTINUE READING BELOW
But he gets singing lessons from his parents every so often.
"There are times when we're in the car, in the States, I'll play a song, and he'll say, 'This is how you sing.' So I get free lessons from my mom and my dad. You don't get that every day, so I take what I can get."
NO ACTING. Showbiz for Robin should stop at music. He is not planning to be an actor; he just wants to make people laugh by being a "goofball" in front of the camera.
"I don't like memorizing lines. I can't cry on the spot. I just want to make people laugh. I'm really kulit. I look like I'm always on a standstill but I'm really kulit on the camera," he said.
Why comedy?
"Because I'm a goofball. I can't be quiet for very long. My humor is not like my dad, who's very energetic. I tend to be quiet and say something out of nowhere and it's really funny. My humor is at the right time, the right place."
Robin said he got his humor from his parents. "Mom is the sarcastic witty one, my dad is the timing."
Having great potential for hosting does not mean Robin is closing doors to any other venture though.
"I don't know. For me anything goes. Whatever I get," he said.