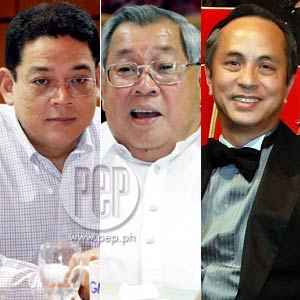 IMAGE 0
---
The latest list of Forbes' 40 Richest Filipinos includes executives of the two major competing major networks, GMA-7 and ABS-CBN.
Making it to the elite roster are GMA Network Executive Vice President and Chief Operating Officer Gilberto M. Duavit with a net worth of $145 million; GMA Network Chairman, President and Chief Executive Officer Felipe L. Gozon with $120 million; and ABS-CBN Corporation Chairman and Chief Executive Officer Eugenio Lopez III with $68 million.
These TV executives noticeably dropped from their respective rankings in 2009. Duavit now occupies the 25th spot, three notches down from last year. Gozon slips to No. 27 from 26, while Lopez also falls two steps behind to land on the 36th slot.
Gabby Lopez's uncle, Oscar Lopez, is at No. 16 with $420 million. The older Lopez is the chairman and chief executive officer concurrently of Benpres Holdings Corporation and First Philippine Holdings Corporation. He is also a Board Member of ABS-CBN.
Meanwhile, former GMA Network President and CEO Menardo Jimenez also made it to this year's list. He is at No. 26 with $143 million.
Note that the figures are based on the owners' individual wealth.
Regarding the two TV giants' financial standing, refer to the website of Philippine Stock Exchange (PSE). As of today, July 9, the market capitalization of ABS-CBN Broadcasting Corporation is at P29,234,374,200 while GMA Network Inc. has P20,502,386,700. Interesetingly, the Kapamilya network has a higher market capitalization than the Kapuso network.
By definition, a market capitalization is a "measurement of the value of a business corporation and could represent the public opinion of a company's net worth and is a determining factor in stock valuation."
ADVERTISEMENT - CONTINUE READING BELOW
Both ABS-CBN and GMA-7 publicly acknowledged that the recently concluded election season helped boost their revenues as political advertisements placed for airing increased exponentially, compared to the past.
Business tycoon Henry Sy once again topped this year's list with a net worth of US$5 billion. Others who made it in the Top 10 are the following: Lucio Tan ($2.1 billion); John Gokongwei ($1.5 billion); Jaime Zobel de Ayala ($1.4 billion); Andrew Tan ($1.2 billion); Tony Tan Caktion ($980 million); Enrique Razon Jr. ($975 million); Beatrice Campos ($840 million); George Ty ($805 million); and Eduardo Cojuangco Jr. ($760 million).
Senator and losing presidential bet Manuel "Manny" Villar suffered the biggest slippage as a result of enormous spending to bankroll his nationwide campaign. The real-estate mogul crashes to No. 17 overall from the 9th spot. Experts believe that the issues thrown against Villar during the election season contributed to the decline of his wealth as it affected the standing of his listed firms in the stock market.
The Forbes Rich List is an annual inventory published by Forbes, Inc covering different countries with the purpose of naming the top money-making individuals and summarizing their projected assets earned in the course of a single year.