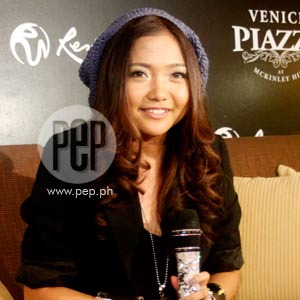 IMAGE 0
---
"There, we were already briefed by the Warner Music Thailand execs that we can ask Charice everything except for two issues: 1.) the facial muscle pain procedure that Charice underwent recently and, 2.) GLEE."
Blogger Carlo dela Rosa wrote on his personal site, giving an interesting rundown of the Filipino singing sensation's July 23 press conference held at the Pullman Hotel in Thailand. Charice visited the neighboring Asian country to promote her self-titled debut album and also to perform at the Siam Discovery.
The press engagement was well attended by Thai and a few Filipino reporters along with label representatives and fans.
Other than the two no-no questions, the invited press were pretty much allowed by the organizers to ask any question.
And talent manager Carlo Orosa also did his share of asking via dela Rosa's blog.
LETTING HER HAIR DOWN. "How do you handle your newfound success? What advice will you give to aspiring singers and what message can you give to your Little Big Star friends from where you started?"
"Yun nga po, tulad nga po ng sabi ko kanina, you really have to work hard. Kasi nga pag minadali mo siya, lalo siyang babagal. It gets slower and slower so you have to work hard. You have to do it like don't just sing it and be like a prima donna like something's gonna happen but then you're not moving. You have to move, you have to do it, you have to work hard," replied the 18-year-old singer.
Interestingly, Carlo handles the career of the young singer who edged out Charice in Little Big Star back in 2005: Sam Concepcion.
ADVERTISEMENT - CONTINUE READING BELOW
"Well, I'm very, very proud naman sa kanya," Charice said about Sam. "Very proud sa mga nararating niya ngayon. I actually want to thank him because I saw a video of him singing my song, 'Pyramid'. I felt really happy. Flattered."
She continued, "He's really a nice guy. And I'm really, really happy for what he had achieved or what he is achieving right now. You know, of course, I'm still actually wishing and hoping na someday we could have a reunion with the other fellow Little Big Star mates. Because when I did a concert in the Philippines, Sam wasn't there."
A Thai reporter asked Charice if she's thinking of changing her musical style for the second album.
"Well, my first one is pop and R&B. I mean, we're not actually planning yet for the second album but we're looking for a new song, a second single which is actually not part of the album. We're looking for a dance song faster than 'Pyramid' because dance is actually 'in' in the U.S. right now. Something like Lady Gaga."
Charice likewise revealed her desire to pen her own songs in the future. "But not right now," she quickly added. "I mean, c'mon, he's David Foster. I'm just enjoying right now and maybe on the next album."
The multi-awarded American songwriter David Foster produced Charice's debut disc, which so far has delivered the international hit, "Pyramid."
"Many people ask if you have a boyfriend?" a curious Thai reporter pitched in.
ADVERTISEMENT - CONTINUE READING BELOW
Charice reportedly laughed before answering: "No. I'm not ready right now because I'm enjoying what I'm doing right now. I'm loving it. Actually that's my boyfriend [music], you know. Sometimes it's heartbreaking, painful, but I'm in love."