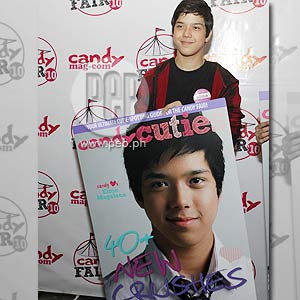 IMAGE 0
---
He may not have bagged the title Starstruck V Ultimate Male Survivor, but 20-year-old Enzo Pineda charmed his way to the hearts of the Candy girls when he topped this year's list of Candy Celebrity Boys, beating the four-year holder of the title, Sam Concepcion.
Sam came out still a favorite, landing the second spot.
"It came as a surprise because the past 4 years, Sam Concepcion has been topping our list," said candymag.com deputy managing editor Macy Alcaraz.
She added, "This year, I think there were a lot of new faces that the Candy girls also liked."
Other celebrities included in the top ten Celebrity Boys list are: Gigger boy AJ Perez, PBB Teen Clash alumni Bret Jackson, Ivan Dorshner and James Reid, MYX VJ Robi Domingo, ABS-CBN Gimik cast Albie Casino, actor Enchong Dee, and actor-rapper Elmo Magalona.
As part of it's 11th year anniversary celebration, Candy magazine staged a Candyland-themed fair last Saturday, September 2 at the A.Venue Hall in Makati City, where an estimated number of around 2,000 teens came.
According to Macy, the theme which was conceptualized by Candy publishers Christine Ko and Bianca Romero was inspired by Katy Perry's hit single "California Girls".
"We wanted a fun and sweet theme to represent what Candy girl is," she said.
This is the fifth year that Candy organized a fair for its readers, who get the chance to meet the Candy Cuties-who are 13-25 year-old ordinary guys. The top picks are determined by the number of votes online.
OTHER TREATS FOR TEENS! The Candy girls were treated to dance performances from the Candy cuties and from the Celebrity boys.
Elmo Magalona's younger brother 9-year-old Arkin sang "Solo" by Iyaza, which wowed the crowd.
Elmo, who sang Dynamite by Taio Cruz and Airplanes by B.O.B., was the crowd's favorite. The event ended with girls chanting his name.
ADVERTISEMENT - CONTINUE READING BELOW
Celebrities who joined the fun, performed and made special appearance were Martin del Rosario, Lance Christopher, Jose, Sarasola, Nico Ibaviosa, Enrique Gil, Ryan Bang, Patrick Sugui, Sef Cadayano, and Ian Batherson.
The program was hosted by Starstruck V Ulimate Male Survivor Steven Silva and Star Magic talent Megan Young.
Aside from an afternoon celebrity-overdose treat, Candy girls also enjoyed the marriage booth, jail booth and the heart-stopping bungee trampoline. There were also bazaars where items used from head to toe were on sale. And taste buds were tickled with the myriad dishes offered in the food booths.
Indeed, Candyland was a fair to remember!