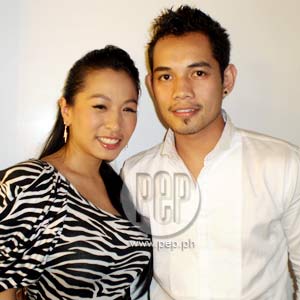 IMAGE 0
---
Nonito Donaire, WBA Superflyweight interim champion, is called "Filipino Flash" for his hand and foot speed as he battles inside the boxing ring.
In an interview with PEP (Philippine Entertainment Portal) during the exhibit of his photography class at Lighthouse Studio in Malate, Manila, the boxing champ showed a different side of himself. Our casual conversation initially revolved around his newfound love affair with the camera. (CLICK here to read related story).
As the conversation warmed up, Nonito Donaire and his wife Rachel Marcial shared what they uphold dearly ─ their union and the basics that they deem important for marriage to work.
FIDELITY AND HONESTY. Nonito and Rachel have been married for two years. They both said "I do" at the Carmel River Beach, Stewart's Cove in Carmel, California on August 8, 2008.
Two years into married life, Nonito and Rachel still epitomize a couple in complete bliss.
Rachel posed this question, "There are couples who are married for like two years, and like, 'How can you be bored already?'"
"A lot of people marry for the wrong reason," Nonito interjected.
Nonito stated that fidelity and loyalty are vital in every relationship. This, he said, comes with no excuses. He cited his situation as an example, "I'm famous and popular and whatever, and I can get any girl I want. But, that's not the point. You know, for me, it's about how I cherish my wife."
He explained, "You respect, you love your wife more than anything. When love is there, at nandun 'yung respect, you won't do anything wrong."
"Dog ako,eh. Loyal ako," Nonito quipped.
How does he manage to drive away the ladies?
Nonito replied, laughing, "I think Rachel drives them away from me. Nakikita na, eh, parang mataray na siya. So, takot sila sa kanya.
"She's always with me. When she's not with me, she knows that I'm always nice to people but I always say that I'm married."
ADVERTISEMENT - CONTINUE READING BELOW
The boxing champ recognizes the importance of telling the truth in a relationship, "If someone is hitting on me, or would want to do something on me,why would I hide it from my best friend [Rachel]?
"That is my one principle in life. Why worry yourself [by] hiding something?" Nonito said with a shrug.
Rachel confirmed this and related that Nonito is very transparent with her on anything, "He would give his password to anything. I guess, the very basis of our relationship is telling everything," Rachel said.
"Tamad lang talaga ako mag-hide," Nonito joked.
Ignoring him, Rachel went on, "You know the reason why guys get caught? It is because they get lazy in covering their tracks. After some months, wala na, they just get tired of doing it," the 28-year-old Filipino-American said.
"This is just for me, but the way that I would see affairs, I would say, it is disgusting and expensive, di ba.? You have to please two women. It is like double everything!" Rachel exclaimed.
Nonito considers his wife Rachel his best friend. He pointed out the importance of friendship in every romantic relationship, "There is a difference of being your friend and just being your lover.
"With your lover, yeah, you'll be there. One way or another, somehow, I don't know but it burns out. But, if you're friends and lovers, that same person, like best friend , you know, you never have to prove yourself with anything or anyone.
"Ang gusto mo is just you and her. Hindi mo na iisipin yung mga sasabihin ng mga tao. [As if turning to their critics], 'Let you guys, think that way. All I know is that I'm happy," Nonito declared.
NO PERFECT COUPLE. However, Nonito admitted that they do experience bumps in their relationship, "We are not a perfect couple. We argue and we fight. And when we fight, you will hear us two miles away," the boxer said.
ADVERTISEMENT - CONTINUE READING BELOW
Rachel revealed that the champ has a temper. But they don't get physical.
He stressed, "But, I never touch her. She never touched me."
He added, "No one is perfect. It is up to the person to make it up. Life is like that. You know, you learn things. You fight but when you want things to work out, you have to work things out."
The boxer said that no matter how big their fight, he never forgets to tell her that he loves her, "We fight and the whole neightborhood hears it. The next day, we are fine, you know, then we say sorry, I love you. Kahit galit ako, I've never said 'I [don't] love you.'"
How often does he say 'I love you" to Rachel?
"Everyday, I say it at least five times," Nonito replied.
Rachel said that arguments are normal, but both parties should always learn how to control the situation. "If you do argue and you reach to that point where you started to say things you don't really mean. It's better to go like, 'Okay, that's enough, you go to another room, I'll go to another room and then cool it off until we can talk.'"
She continued, this time a bit giddy, "I can't believe I'm doing this. I think it's the vodka. If you have an argument naked, it does not work. The argument does not work," she said laughing.
Rachel explained that "naked" has a deeper meaning. "Even if you throw towel around yourself, you are still vulnerable. And, I think vulnerability allows you to put your guard down when in arguments. That way, you are both "naked" emotionally to each other. It's interchangeable with opening your mind."
GOOD OLD TIMES. Feeling a bit nostalgic, Nonito related some experiences in the course of their relationship.
ADVERTISEMENT - CONTINUE READING BELOW
He goes, "First time I met this girl, she couldn't go to the province because sabi daw, 'May aswang!' I brought her to the province, I brought her to the tricycle, and I made her ride a jeepney."
Rachel joined in, "The first time we went there, we had sinigang, fish and then I poured all the sabaw on my rice."
Then he came up with a brilliant idea and said, "Let's eat without spoon and fork."
Rachel: "And I'm like, 'I've never done that right and I just got my rice all wet."
And he goes, "Aren't you eating?"'
"Nope."
"I didn't eat until he taught me how to eat with my hands!" Rachel recalled.
Nonito pitched another story about their first trip to the province together. It happened when Rachel went to the toilet and she didn't come back for more than 30 minutes.
"So I had to check on her. Then she goes, 'I can't find the flush.' I told her, 'That this bucket here, throw it in, and then down goes your pee-pee," Nonito said, laughing.
MORE TIPS FROM RACHEL. While Nonito went off to entertain his other guests, Rachel talked to PEP in private and shared some tips for a gal to keep her guy.
She said, "Give him something he can't live without. If he feels he can find something in another woman, wala talo ka.But, if he believes he can't live without you, because of the things you do or the way you make him feel, wala, no matter what!"
Rachel elaborated, "Women need to get out of their heads that they have to be beautiful all the time to save their marriage. That doesn't work."
The model and athlete stressed that it the basis of mutual attraction should be more than physical, "Your husband has to see you on your worst days and still love you. It's vain to say that you always have to be a "10" just to keep your husband."
ADVERTISEMENT - CONTINUE READING BELOW
"No one is ever a '10' all the time!" she exclaimed.
"Besides, if you do that you set yourself up for a trap. What happens when you're pregnant and don't feel 100 percent; and he's never seen you below a 10? Does that mean he'll leave you?" Rachel asked rhetorically to make a point.
She continued and said, "That's why it's more important to give him something he can't live without because...guess what?
"There is always gonna be someone prettier, sexier, more beautiful. But, if he can never replace your conversations, your supportive nature, the quirks he loves about you ─ it won't matter the other beauties because what you have built with him outside of physical attraction is something he can't live without," Rachel articulated with conviction.
FREE SPACE. Rachel also advised couples to give each other space to grow freely. "You just have to support each other. You could be completely opposite, but you have to really support each other. You have to understand that that person needs their time."
She cited her and Nonito as an example, "He could go [with] his photography for how many hours, and that is fine with me. But when I'm reading my book, when I'm studying, I need my own time. I don't want him coming around and making gulo."
Rachel stressed, "There has to be time and place for everything."
Lastly, she shared a secret for girls to keep their guys in romantic suspense: If he calls or he texts, don't regularly answer the phone.