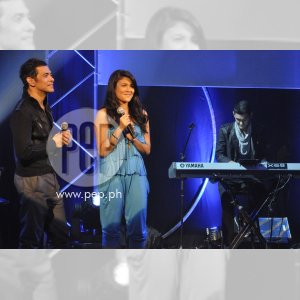 IMAGE 0
---
In 180 minutes, Gary V. poured out his heart and his energy on the Music Museum stage, ensuring that his fans, who filled the place to the rafters, would understand what it is like to be Mr. Pure Energy.
Gary V. made it look easy.
He performed around 30 songs—more than half of them he delivered while dancing—but it looked like he never felt tired. He did the same for mellow songs and made the audience feel the sadness, the longing, and the nostalgia hidden in each song.
It was an amazing feat, because the concert this writer attended on the night of October 9 at Music Museum in Greenhills, San Juan, was in fact the last of the Soul in Motion series. If reviews are to be believed, Gary V. had been successful in sustaining the same astronomical performance level in each of the concerts in the series. Remarkable, indeed.
The concert played like Gary V's biography. The playlist included the songs that made him popular, the songs he recorded for the movies and for television, the songs he is currently working on, and the songs that continue to inspire him. He tackled issues about fatherhood, stardom, age, faith, and perseverance as well.
Technical problems hindered the concert from starting at the 8 p. m. schedule. Nevertheless, the crowd easily erupted into applause when the lights dimmed at 8:50, and when Gary V. sashayed from the audience to the stage while singing his 1993 hit "Hataw Na!"
"As a child, I was addicted to movement," Gary V. told the rapt audience. "Anything that moved, I have to be part of it."
He continued, "I'll tell you, as I grew up, things started to change. I didn't know that being addicted to the movies will bring me to this."
Gary V. then proceeded to sing songs that became theme songs of several movies and television shows, including "How Did You Know," "And I Love You So," Because of You," "Kailangan Kita," "Natutulog Ba ang Diyos," "Kung Tayo'y Magkakalayo," "Tayong Dalawa," and "Sana'y Maulit Muli."
ADVERTISEMENT - CONTINUE READING BELOW
The next sets featured songs that Gary V. previously recorded but never became hits, songs that he is currently writing, new wave tracks, and hit songs of today.
HEART. What's memorable about the concert is Gary's collaboration with several artists. "It's a privilege," he said, "to be working with new artists."
"Longevity," he added later. "There were times when I asked myself how long can I keep on doing this... Nobody cares how old you are. They only care how new."
And so, Gary V. performed with four young artists: Jericho Rosales, Duncan Ramos, and his children Keanna and Gab.
Gary V. and actor-singer Jericho Rosales performed "Stand By Me." Afterwards, Jericho performed his hit song "Pusong Ligaw" while Gary V. changed his clothes backstage. Later on, Mr. Pure Energy would praise Jericho because he "sings and writes his own songs."
Gary V.'s performance with Duncan Ramos, a former member of Southborder, was special. Not many people knew that Duncan had already danced with Gary V. in a concent before, when he was just a small kid. Thus, it was a pleasant surprise when Gary V. and Duncan reprised their old breath-taking dance performance, which had the audience screaming for more.
Duncan also sang "Rainbow" and "I Just Can't Stop Loving You."
The most special performances of the night were when Gary V. performed with his children. He sang a duet with Keanna, his only daughter, and he danced with his son Gab.
[Paolo, his eldest child, was at a wedding in Bulacan. But he edited the videos shown during the concert.]
Before introducing Keanna to the audience, Gary expressed his fears about letting go of his daughter, who will soon turn 18.
"We're supposed to introduce her to society," Gary V. said, referring to the customary debut ball. "Technically, she's a grown woman. But every time I see her, I see a small child."
ADVERTISEMENT - CONTINUE READING BELOW
Keanna then went to onstage to sing a duet of "The Climb" with her father. She sounded a little nervous at first, but she was able to deliver a performance worthy of her father's name.
Gab performed the song "Shout for Joy" with his dad just before the end of the concert. He also played the piano while Keanna sang her piece.
Many celebrity-friends of Gary V. came to enjoy the concert. They include Sam Milby, John Pratts, Maja Salvador, Sheryl Cruz, Princess Velasco, Jason Gainza, Jason Abalos, Joshua Zamora, and Jopay Paguia.
There were many moments in the concert when the crowd stood up to dance to Gary V's music, even up to the concert's end at 12:30 a. m. the next day. Even the celebrities left no apprehensions and danced the night away. Joshua Zamora, for instance, even climbed the stage to dance with Gary V., even though it was not in the script.
There was no surprise about it—Gary V. made it look easy.