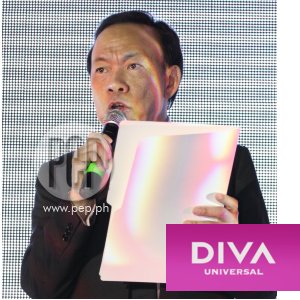 IMAGE 0
---
There are many reasons to celebrate the new cable channel Diva Universal. One, Diva is a new channel that is geared towards women who love life. Two, it features exciting new shows that are big hits here and abroad. Three, it aims to localize its content within the next year.
Thus, only good vibes filled Diva Universal's grand launch party last October 6 at A. Venue Hall, Makati City. Food and drinks were aplenty, and raffle prizes rewarded most of the attendees.
Diva Universal is a partnership between Universal Networks International (UNI) and Solar Entertainment Corporation. It officially premiered on TV last September 19, at 6 p.m.
Guests started filling A. Venue at 7 p.m. Many of them flocked the open bar, while others feasted on the delectable finger food available.
The program started at 8 p.m. with a speech by Mr. Wilson Tieng, head of Solar Entertainment Corporation, who was visibly happy at the potential success of his second international channel.
"Diva Universal captures the sophisticated lifestyles of sassy and independent women," he said. "In Solar, we grow, we expand."
Mr. Raymund Miranda, Managing Director of UNI in the Asia Pacific Region, on the other hand, told the guests his company is very excited about Diva.
"The launch of Diva Universal completes the roll of our newly-branded channel portfolio for 2010. This is the beginning of an amazing brand experience for our viewers, platform partners and advertisers," Miranda said.
Next, the guests were treated to a preview of Diva's show line-up: breakout U.S. police drama Rookie Blue, Asia's weight loss competition series The Biggest Loser Asia, the cooking competition series Top Chef, Golden Globe award-winning series The Good Wife, long-running talk show The Oprah Winfrey Show, and many more.
A raffle game followed the presentation. Lucky guests and members of the press were able to bring home gift cheques from several sponsors including Mossimo, The Spa, Accessorize, and Salsa Jeans.
ADVERTISEMENT - CONTINUE READING BELOW
Luckier still were the guests who were able to take home cash prizes ranging from P5,000 to P25,000.
NOT EXCLUSIVE FOR WOMEN. PEP (Philippine Entertainment Portal) and other members of the press were able to interview Mr. Raymund Miranda after the event. Miranda said Diva is "not just a lifestyle and women's channel."
"It's not a lifestyle channel. It's basically a channel that celebrates a number of attitudes, a number of spirits that are associated with women, but are not about women as well. It's not a women's channel. It's actually a channel that is geared towards women, but it's not just for women," he said.
Diva's program line-up, Miranda said, is not necessarily targeted towards women.
"So, that's why, you know, it's got Biggest Loser Asia, it's got Rookie Blue... there is Top Chef, there is The Fashion Show," he said.
And since Diva is a "modernized" version of the Hallmark channel, it will still show a lot of movies.
"One of the things that people liked about Hallmark was the movies. So the movies are still going to be there," Miranda said. "Kasi, Hallmark has a strong legacy, e, specially in the Philippines, di ba? It's a good channel. We're trying to modernize it and update it a little bit."
Miranda explained that the reason why they put up Diva was to establish their own brand.
"Hallmark is very well alive in the US. In fact, is a top-rating channel in the US. What happened is, kasi Universal Networks bought the company that used the company that used to run the Hallmark Channel globally, outside of the US. So that was a big acquisition in 2007. So the way that it works is we would effectively be licensing the name of Hallmark, right? So, now, after a couple of years, this is really our own brand already.
ADVERTISEMENT - CONTINUE READING BELOW
"It's not about paying. When we run channels, we look at building our own brand. There is a point in time wherein you say, it's about how we're going to start building these brands, what we as Universal Networks brings to the channel, and then how it gets reflected. It's also important because we're investing in content, our own shows. So we wanna start building our own brand, with our own show."
Miranda said viewer reception had since been positive after Diva was launched on September 19.
"Very good. I was just telling people, I saw the ratings for the first week. Biggest Loser Asia, very very strong on Tuesday nights. Rookie Blue, very strong. Oprah, on Sundays, because that's the celebrity edition," he said.
One way to increase viewer reception is to add local flavor to Diva, Miranda said.
"I'd love to start looking at evolving Diva Universal Philippines into a more unique channel designed for the Philippines... The more you focus on a specific market, the stronger the channel will be," he said.