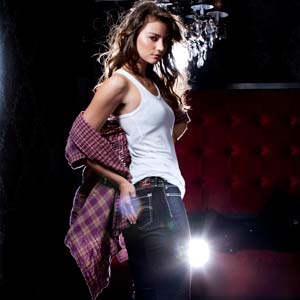 IMAGE 0
---
German model Kristin Schrot—popularly known worldwide as Ms. Nine—epitomizes the modern woman of today: ambitious, talented, spunky, a go-getter.
The towering hospital nurse took her looks and wits to the glitzy world of modeling following her successful campaign in one of Germany's biggest modeling search contests.
The victory paved her way to become part of Elite Model Management's roster of models. Being a catwalk personality in a prestigious modeling agency allowed the young stunner to travel the world and participate in a string of fashion shows sponsored by signature brands.
But being an irresistible presence on the ramp is just part of the equation for Kristin Schrot. Her love affair with music led her to pursue a separate career as a disc jockey in Amsterdam during the early parts of the millennium.
It was while spinning the mixing board at Amsterdam's legendary club Motion that she embraced the title Ms. Nine—a name designed to separate the model from the electronic musician.
Ms. Nine's foray into the world of deejays was another testament of her determination to make a name in a field widely known as a male-populated industry.
She first toured parts of the globe as a DJ in 2003. And then she moved to the forefront of the scene in 2005 after she was booked to perform at some of the most prominent clubs, like those found in Ibiza, Miami, Los Angeles, New York, Brazil, and London.
Ms. Nine recently visited the Philippines, where she performed at Amber UltraLounge in Taguig City, to promote her album titled Fantasia. The five-foot-nine model also colored the party mood at The Penthouse in downtown Cebu.
The Manila engagement was part of Ms. Nine's promo activities as the new face of international denim brand, Levi's Jeans, alongside model-socialite Pixie Geldof and Swedish singer Lykke Li.
ADVERTISEMENT - CONTINUE READING BELOW
Marketing manager Genevieve Jimenez told PEP (Philippine Entertainment Portal) that Ms. Nine embodies the brand's distinct character as known by its loyal costumers—"youthful, sexy, definitive, and original."
She added, "Ms. Nine exudes irreverent beauty and looks, well-rounded and vibrant."
Ms. Nine's interesting personality, continued Jimenez, perfectly fits the brand's new Curve ID Fit System: "We believe that there is no standard body type. In our curve-based fit system, there are three custom fits: Slight Curve, Demi Curve, and Bold Curve. That's because women are more than just a waist size. Hence brought our campaign theme to life—We believe it's about shape, not size."
The model-DJ's stature and unique ability to fit both in the mainstream and underground scene with relative ease also reflects the popular brand's worldwide image of appealing to a diverse collection of jeans-loving consumers.
Inviting Ms. Nine back to Manila is uncertain, given her busy schedule until December, although the idea is certainly welcome after the turnout of her recent visit.
"Based from the response when she was here, it was very overwhelming. If we have a chance, let's say there's a big event and she's free, we will definitely be glad to bring her over again. May following talaga siya dito sa Philippines," said Jimenez.