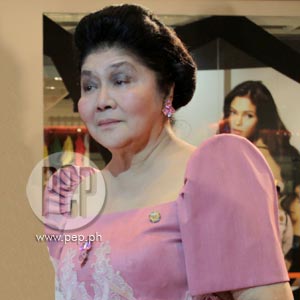 IMAGE 0
---
Former First Lady and Ilocos Norte Rep. Imelda Marcos graced a tribute event for National Artist for Fashion Ramon Valera last Tuesday, October 15, at Glorietta 5, Makati City.
During the Martial Law regime of her husband, former President Ferdinand Marcos, Imelda led programs that aimed to promote beauty in Manila.
Her obsession with "the true, the good and the beautiful"—her slogan under the so-called New Society—made Imelda well-known as an ostentatious fashionista. The word "imeldific" was even invented from her extravagant lifestyle. A final count by TIME magazine in 1987 found that Imelda's wardrobe had 1,060 pairs of shoes, 508 floor-length gowns, 888 handbags, 71 pairs of sunglasses, 15 mink coats, and 65 parasols.
Many of the gowns were designed by Ramon Valera, who may have considered Imelda one of his best patrons.
Thus, Imelda was the perfect special guest for the launch of Freeway's Ramon Valera collection, the fourth in its National Artist Collectors' Series—which already honored literature heroes Nic Joaquin and Jose Garcia Villa, and revered painter Ang Kiukok.
The event featured an audio-visual presentation about the late Ramon Valera, a Q&A portion with people who knew him best, a fashion show to showcase the fashion brand's new line, and an interview with Imelda herself. It also mounted an exhibit of the gowns that the famous designer created during his distinguished career in fashion.
Columnist, TV host, and fashion icon Tessa Prieto-Valdez hosted the interview session with Imelda. She asked the former First Lady to describe one of her favorite gowns that had been designed by the late National Artist.
Imelda replied, "I remember, when I went on a State visit for the... one of the State visits to Thailand. And, you know, their designs are very intricate, and also their jewelry and everything.
"So what did Ramon do? What Ramon Valera did, he placed the tambourine beautifully around my beautiful alaskine, you know, this Thai silk. And the Thai silk is something they knew, because it was made there. And then placed the tambourine there too. Oh, it was one of my favorite gowns."
ADVERTISEMENT - CONTINUE READING BELOW
Imelda also praised Valera for mixing research with fashion design.
"I would tell him, you know, that I was going to Iran, that I was going to China, I was going to Russia, and he would go out of his way to study also what was going on there. And so, as I said, he was not only a great artist, but he was also a great scholar," she said.
GOOD, TRUE, BEAUTIFUL. Tessa then asked Imelda on how she maintains her looks even at 81 years old. The congresswoman's reply was that she's still committed to "the good, true and beautiful."
"Because when I was First Lady, when I had a project, nobody would ask, 'Yung project ba ni first lady, malaki ba? Mahal ba?' Isa lang ang tanong: 'Maganda ba?'
"And then here, Filipinos are brainwashed. They don't say... In German, English and Spanish, you say guten morgen, guten abend, buenos dias, buenos tardes, good morning, good evening. How do you say in Tagalog? Magandang umaga, magandang gabi, maganda, maganda, maganda.
"Kaya ang mga Filipino, allergic sa pangit. We're brainwashed to be beautiful. Bakit ang mga pangit, allergic sila sa akin?" she said.
Promoting beauty is her agenda in Congress.
"You know, before, my ambition when I was first lady was to make a lungsod pantao. A city for man. Then I was minister of human settlement, I initiated the habitat for humanity for the United Nations. But now my dream, now that I am congresswoman in Ilocos Norte, I want every barangay, a human settlement in paradise.
"Paraiso na. Hindi lamang, prosperous town, rich town, hindi. Gusto ko, lungsod pantao sa paraiso. Kayang-kaya ng Pilipino. That's why I'm preparing thousands of seedlings, plants, flowers, and trees.
"And then also ensuring that I will use only three kinds of fuel—fuel coming from hydro, water, then air, which Bongbong had started already, then we have solar...So we have three, three sources of power and you will see that in Ilocos soon," Imelda said.
ADVERTISEMENT - CONTINUE READING BELOW
Imelda's parting shot for those who attended the event that ended at 8:45 p.m.: "Beauty is God made real. And really tells what you have done putting this design of Valera, and, you know very well that mass follows class, never class follows mass. Congratulations for knowing this."