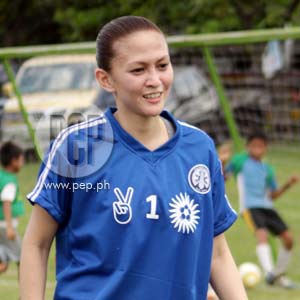 IMAGE 0
---
Why is SNN and E-Live host Cesca Litton hanging out with orphan kids and members of the Armed Forces of the Philippines?
Cesca and two of her friends teamed up with the army and organized a football clinic for orphan kids in observance of the United Nations worldwide celebration of Peace One Day last month. (CLICK here to view gallery.)
In a recent interview with PEP (Philippine Entertainment Portal), she talked about her involvement in sports, close encounters with Hollywood stars at this year's Cannes Film Festival and landing her first international reporting stint with France 24.
Disappointingly, Cesca did not give much details about her rumored relationship with actor Jericho Rosales.
SPORTS CHICK. She loves sports. In high school, she was a member of the varsity team at Colegio de San Agustin. In college, she was with the soccer club at the University of the Asia and the Pacific, where she took up Political Economics.
She started her television hosting career as a courtside reporter for the National Collegiate Athletic Association (NCAA) back in college.
"People don't know this [but] I've been into sports my entire life. My dad taught me how to shoot when I was like eight," Cesca revealed.
She said her job as TV host and various outdoor activities make her happy.
"I love camping. I was a girl scout. I was a gymnast. I was a cheerleader."
She's also into hiking and mountain climbing. Last year, she and her friends climbed Mount Pulag, Luzon's highest peak. They plan to make this an annual activity.
TRAVEL SHOW. Although she enjoys her work as TV host of SNN and E-Live, Cesca confessed that she would love to be part of a travel or a sports-oriented show.
"I would love to do a show similar to Sports Unlimited, hosted by Dyan Castillejo and Marc Nelson. I would love to just hang out with Kuya Kim [Atienza, TV Patrol's weatherman and host of Matanglawin] or something," she said.
ADVERTISEMENT - CONTINUE READING BELOW
She described the atmosphere at E-Live, "We are just really enjoying the show. Light and fun kasi 'yung atmosphere namin sa E-Live, e. There's really no drama. Basta lahat kami magkakasundo."
Cesca also commended her co-hosts' sense of humor, "Luis [Manzano] is so hyper, so makulit. Joke time lagi si Luis. Nikki naman is super perky. We have the same manager, we are under ALV [Talent Circuit]. Nikki is always smiling and mabiro. Kaya niya makisabay kay Luis."
She even shared a funny trivia: Luis and Billie [Crawford] landed the second spot in the Bromances ranking by lifestyle website, Spot.ph. A Bromance is a close, but nonsexual relationship between two males. The top spot went to all-time favorite duo, Ernie and Bert, of Sesame Street fame. (CLICK here to read related article.)
CANNES FILM FESTIVAL COVERAGE. Cesca also related her experiences when she covered the Cannes Film Festival 2010 last May.
She and Director Jilmer Dy of ABS-CBN were chosen over the other networks to represent the country.
Cesca said she and Direk Jilmer were handpicked by ABS-CBN, to join a one-week workshop, where they were asked to work individually and in pairs, to produce a final project. This became the basis for Canal France International (CFI) to decide on who would be sent to the Cannes Film Festival.
Cesca related that they made a documentary on the life of a contestant of ABS-CBN's defunct noontime show Wowowee. Their initial plan was to feature a Robin Padilla fan, who went to the studio every day hoping to be chosen as one of the contestants of the show.
She described Cannes as "one of the best experiences in my life... I got to interview Benicio del Toro, Terence Howard, and I attended the press conferences.
"I got to ask Michael Douglas a question," Cesca said, giddy with excitement.
ADVERTISEMENT - CONTINUE READING BELOW
"I saw Kate Beckinsale—she was so gorgeous and flawless! I swear, from her eyebrows to her nose, from her cheekbones to her lips. Ang ganda niya! I no longer cared who else was there. I was staring at her," she gushed.
"I got to attend the press conference for [the movie,] Wall Street: Money Never Sleeps (2010). That was where I got to ask Michael Douglas a question."
She compared the presscons in Cannes with those in the Philippines: "There, you have to fight for your life to ask a question. Dito, the reporters—everyone, nagbibigayan. Doon, hindi.
"If you're from different country, a different network, you really have to go, 'Andito ako!' You have to keep raising your hand and do everything to get their attention. If you don't get called, sorry ka na lang."
She said they discouraged asking personal questions during press cons in Cannes and cited a particular incident.
"There's this one guy who raised his hand and the mediator goes, 'What is your question?' And the reporter goes, 'this question is for Michael Douglas. It's rather a personal question.'
"And the mediator goes, 'Sir, I'm sorry...'
"'Oh, no no!' and the reporter quickly asked, 'What's it like to be Michael Douglas?'
"Ganun sila ka-strict! Obviously, I've never seen that happen here in the Philippines," Cesca said.
She also talked about her interview with Terence Howard [who appeared in the first Iron Man] as well as her one-on-one with Benicio del Toro.
Benicio del Toro was a juror at the Cannes Film Festival 2010. He won best actor award at Cannes for his portrayal of icon Che Guevara in the 2008 film Che.
"I did research on him. He is a method actor. We interviewed him for about 10 minutes. But [the clip] we sent to Manila was limited to 2 or 2 1/2 minutes. So talagang na-compress yung interview. Ang daming hindi nasama.
ADVERTISEMENT - CONTINUE READING BELOW
"I remember asking him, about this movie [Fear and Loathing in las Vegas] where he played a drug-addict lawyer. He was so into the role, in one scene, he burnt himself with a cigarette. The director didn't tell him to do this but he thought it was part of the role na ganunin ang sarili niya. I asked him about that and he goes, 'Yeah, I was kind of stupid back then,'" Cesca related.
PHILIPPINE CORRESPONDENT FOR FRANCE 24. That interview with Benicio del Toro opened doors for the young TV host.
The Hollywood actor was all praises about his one-on-one interview with Cesca, it landed her a reporting stint as Philippine correspondent for France 24, an international news and current affairs TV channel like CNN and BBC.
"I got a phone call from Ivan Javier, the guy from CFI when I was in Monaco. Apparently, Benicio del Toro went to press offices and said he was very impressed with my interview... basta he was praising me daw.
"And CFI was very happy because apparently, 200 other people were trying to land that spot and they fought hard for me. So at least hindi sila napahiya," Cesca said.
Her first reportage for the French channel was on the August 23 hostage crisis which left eight Hong Kong tourists and their hostage-taker, an ex-police officer, dead.
Cesca said she has mixed feelings about her first international reporting stint. "I don't know if I'm supposed to be happy kasi 'Oh my gosh, I just reported for an international network.' At the same time the incident itself was horrendous."
ON JERICHO. Asked about her relationship with actor Jericho Rosales, Cesca smiled and said she would rather not talk about it.
After some prodding, Cesca finally said, "Let's just say, God is good. Wag na, let's not talk about it."
ADVERTISEMENT - CONTINUE READING BELOW