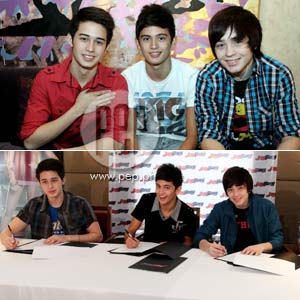 IMAGE 0
---
Pinoy Big Brother Teen Clash 2010 housemates Bret Jackson, James Reid, and Ivan Dorschner are still processing their newfound popularity after their stint in Kuya's house.
"I don't think we can ever get used to it," smiled Bret. "But it's been really fun."
PEP (Philippine Entertainment Portal) was able to talk to the three last October 20 during their contract signing as endorsers of Jag Thug clothing line held at 9501 restaurant inside ABS-CBN compound.
"Fun" for the young actors, who recently went to Hong Kong for a Jag photo shoot, includes juggling and cramming various activities in a single day from morning and even until dawn next day.
James mentioned, "It's really a process para masanay, but we're getting there... Araw-araw we have acting workshops, go-see, interviews, and photo shoots."
Ivan, James, and Bret all agreed that they never imagined being actors after PBB ended last June. The realization only occurred when ABS-CBN started grooming them in preparation for an acting project.
The three are slated for a teen-oriented show titled Good Vibes which, according to Bret, is "like Glee" but without much emphasis on the singing.
"We'll be doing a lot of dancing rather than singing," revealed Ivan. "I think it's more like the classic movie Grease rather than Glee."
Grease is the 1978 iconic American film starring a then-young actor named John Travolta and budding singer Olivia Newton-John. The film earned critical and commercial success, with critics applauding the movie's catchy soundtrack mixed with its "ode to young love" storyline.
Nowadays, Bret, Ivan and James are attending extensive workshops under the helm of experienced mentors with varying specialties in preparation for Good Vibes.
"It was hard," Bret said about the grueling workshops. "But it's also fun because sometimes you didn't notice that you're actually learning while there together with friends."
Workshops require students to "make a story out of nothing," said Bret.
ADVERTISEMENT - CONTINUE READING BELOW
Perhaps Ivan, James, and Bret might as well credit Pinoy Big Brother for subtly instilling in them the eccentricities that are usually required during workshops.
They recalled wearing diapers while inside the house as part of Kuya's challenge. There were of course more challenging tasks performed by the housemates throughout their stay—too many for them to even pick the most memorable.
Do they miss living inside Kuya's house?
"Actually, all the housemates really miss the house," replied Ivan. "But it's because all of us like to be with each other."
Bret added, "I won't say that we miss the house. It was just really fun."
Staying grounded has never been a problem for the three, despite being mobbed by a big group of over-excited fans while inside a shopping mall.
"I think the three of us have done our best not to get all of these into our heads," smiled Bret. "We're just so happy to be really blessed and doing all these things after PBB.