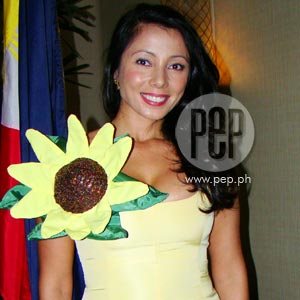 IMAGE 0
---
Hollywood actress Rachel Grant visited the country recently to present the organic personal care products of Human Nature to its dealers and to the local media.
At a press briefing, the former Die Another Day actress related how she was introduced to these products. She said that in her earlier trip to the Philippines, a relative told her about the organic beauty products, which are now becoming a fad among Hollywood stars.
Rachel was amazed because not only are they more affordable here than those being sold abroad, Human Nature products are also 100 percent organic. So, when asked to be the endorser of Human Nature, Rachel did not think twice.
"For me it's like a dream come true, just giving something back to the Filipino people. It's more exciting because it's all about creating and making products that we can sell internationally and the money can come back to the Philippines," she told the media.
"It's all about loving the Philippines with Human Nature. The fact that all its ingredients come from the Philippines, the fact that it's environmentally friendly, kind to the animals, and to the environment, it's no-brainer to me. It's an easy decision to help Human Nature."
In time for the Yuletide season the company launched its "One Heart for One Community" project, by which 100 percent of the sales of Human Nature's top-selling product, Citronella Bug Spray, will be donated to the Citronella farming community in Labo, Camarines Norte.
"We can really be proud of these products because they're environment-friendly, pro-Philippines, and pro-poor," Rachel said as she encouraged the invited guests to spread the word.
CHARITY WORK. Although Rachel is now based in Los Angeles, she still finds time to be involved with charitable projects here in the Philippines. In fact, she's been an active volunteer of Gawad Kalinga since 2007 when she helped other volunteers in building houses for the beneficiaries in Parañaque.
ADVERTISEMENT - CONTINUE READING BELOW
"It was fun. I enjoyed the painting more," Rachel recalled. "But it was the community that I was working with that I really enjoyed the most because I was still in touch with them via e-mail and Facebook with people that I met. They're very supportive,"
Given another opportunity, Rachel would like to do that again since she's already involved in such projects in England.
She related, "In England, we're very good doing charitable work. We always get together, do shows, raise money, and giving it to the blind. I think it's very good coming together and raising money. I kinda have that image, always work for the charities."
Rachel hopes to be invited again to build houses for Gawad Kalinga.
"But I need to find the right time to do it because they have certain times when they invite people and they can't," the host of Ripley's Believe It or Not said.
"I always want to give back to the Philippines and help children, just to give back and help. As Dylan [Wilk, VP of Gandang Kalikasan Inc., maker of Human Nature] said, he had a very good education in England and so did I. Growing up and seeing the poverty here in the Philippines and the children, would really break my heart. I said, one day, 'I'm gonna do something about it.' Many people say, 'We're going to do something about it.'"
She's glad that her presence somehow motivates and encourages other volunteers.
"For them [Gawad Kalinga], me going and helping them is very encouraging. And I can see that meeting [them] is already a big difference. So, maybe it takes someone like me to make them feel like, 'Wow, this is a great thing. Let's all help out, let's all get involved,'" Rachel said.
ADVERTISEMENT - CONTINUE READING BELOW