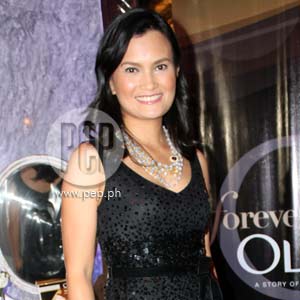 IMAGE 0
---
TV Lifestyle host Daphne Osena-Paez appeared in the Forever Olay event last October 13 at the Peninsula Hotel in Makati City looking stylishly classic.
In fact, she was recently proclaimed as the Most Stylish Female Host in the Celebrity Style Awards
Wearing a classic LBD accentuated with a necklace, Daphne said in an exclusive interview with PEP (Philippine Entertainment Portal) that she did not expect the Style Award.
"I was so flattered! To tell you frankly, I was not expecting anything because I was nominated with Angel [Locsin], Ruffa [Gutierrez], Lucy [Torres-Gomez] and Teresa Herrera. I understand that it is by text votes.
"You know, they are showbiz icons and I'm not. No, I didn't even attend the function because I had a previous commitment, so when I read about it in Twitter, I flipped out," Daphne said.
For one who's deemed "Most Stylish," Daphne reveals that with her job as both host and producer of the show, fashion is not her priority.
"I'm really really flattered [by] all of these things when you try to just go on with your day. I produce and host Urbanzone, so my mind is always working. Beauty and fashion is not on top of my mind," she explains.
SANS STYLIST. Another surprise for PEP is that she's never had a stylist.
"I never worked with a stylist. I style my own style. I wear my own clothes. I buy my own clothes," the TV host said.
She prefers simplicity and sticks to the classics.
ADVERTISEMENT - CONTINUE READING BELOW
"The only thing that I put in my mind when I'm getting dressed is, 'Do I look fine? Am I presentable?' I don't really think about fashion. I keep it simple and classic. I want to look back at my photos ten years ago and not regret anything I like."
For the event that afternoon, she said that she has worn the LBD a lot of times. She'd rather not stress herself and buy new things just to look different.
She invests in jewelry and accessories that oftentimes gives a different oomph to the outfit.
She lists Zara, Mango, Adora, Rustans and Club Monaco as the stores that satisfy her shopping needs. Locally, she said she loves Kane and Company.
"A lot of people think it's not a local brand because it's extremely good quality. Quality fabric with quality sewing. I really invest in pieces that can last long," Daphne stressed.
FASHION ICONS. While Daphne holds her own in the field of fashion and style, she has her fashion style icons.
Daphne admires model-turned-designer Tina Maristela Ocampo, saying "she is the woman who knows her look."
She looks up to the late former U.S. First Lady Jackie Kennedy as well.
"[Jackie] has the look that she could call her own, that touched the entire industry up to now...." she remarks.
Daphne is all praise for Queen Rania of Jordan, not just for her fashion style. Queen Rania is a UNICEF Eminent Advocate for Children.
"She's a working woman, she's a queen, a UNICEF advocate," said Daphne, herself a UNICEF special advocate for children and breast-feeding.
ADVERTISEMENT - CONTINUE READING BELOW
Apart from women who look great, Daphne thinks even more highly of women of substance.
"I admire women who more than just thinking about fashion and dressing up, women who achieve and do better for the rest of the world."