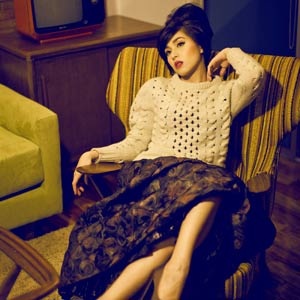 IMAGE 0
---
"Di ba pang-alta lang 'yon? The alta de sociedad?"
These were her exact words when Cristine Reyesfound out she would bring retro fashion back to life on the cover of Previewmagazine this November.
Cristine looks every inch the society belle wearing the Autumn-Winter 2010 collection of Louis Vuitton, flown in especially for the Preview shoot.
Preview fashion editor-at-large Liz Uy says, "There's a return to the woman, curves and all, and who better to represent that than Cristine?" Indeed, the latest collection of Louis Vuitton—which is all about full skirts, corsets, and ladylike leather—accentuates her curves and sexy figure.
ON BEING SEXY. Cristine tries to define it. "Hindi siya all physical. It's about being confident. Even if you're just wearing slippers, but if you're happy with yourself, that can be sexy."
Uy affirms that Cristine is very comfortable in her own skin.
"She's my only client who changes right in front of me," she says. "In fact, the first time I styled her, I didn't know how to react [when she undressed], but now I'm used to it."
The sexy actress wears a beehive on the cover, as the updo is touted to be the season's hottest new hairstyle.
Preview editor-in-chief Pauline Juan says, "On Cristine, the updo looks sexy, which goes perfectly with the wasp-waist ensembles of the Louis Vuitton collection."
The fashion spread gives a modern spin to what Juan calls "the most Imeldific of hairdos," dispelling any old-lady notion that you may have about the updo.
ADVERTISEMENT - CONTINUE READING BELOW
See more of Cristine in the November issue of Preview, which also features the annual Beauty Awards. Preview is available on newsstands, bookstores and supermarkets nationwide.
SHARE THIS STORY Preview" data-url="https://www.pep.ph/lifestyle/23269/cristine-reyes-wears-louis-vuitton-and-dons-imeldific-hairdo-for-preview" data-desc="It's Cristine's first time to grace the fashion magazine's cover." data-image="https://contents.pep.ph/images2/writeups/c89bd2d30.jpg"> Preview" data-url="https://www.pep.ph/lifestyle/23269/cristine-reyes-wears-louis-vuitton-and-dons-imeldific-hairdo-for-preview" data-desc="It's Cristine's first time to grace the fashion magazine's cover." data-image="https://contents.pep.ph/images2/writeups/c89bd2d30.jpg"> Preview" data-url="https://www.pep.ph/lifestyle/23269/cristine-reyes-wears-louis-vuitton-and-dons-imeldific-hairdo-for-preview" data-desc="It's Cristine's first time to grace the fashion magazine's cover." data-image="https://contents.pep.ph/images2/writeups/c89bd2d30.jpg">
SHARE THIS STORY
Preview" data-url="https://www.pep.ph/lifestyle/23269/cristine-reyes-wears-louis-vuitton-and-dons-imeldific-hairdo-for-preview" data-desc="It's Cristine's first time to grace the fashion magazine's cover." data-image="https://contents.pep.ph/images2/writeups/c89bd2d30.jpg"> Preview" data-url="https://www.pep.ph/lifestyle/23269/cristine-reyes-wears-louis-vuitton-and-dons-imeldific-hairdo-for-preview" data-desc="It's Cristine's first time to grace the fashion magazine's cover." data-image="https://contents.pep.ph/images2/writeups/c89bd2d30.jpg"> Preview" data-url="https://www.pep.ph/lifestyle/23269/cristine-reyes-wears-louis-vuitton-and-dons-imeldific-hairdo-for-preview" data-desc="It's Cristine's first time to grace the fashion magazine's cover." data-image="https://contents.pep.ph/images2/writeups/c89bd2d30.jpg"> Preview" data-url="https://www.pep.ph/lifestyle/23269/cristine-reyes-wears-louis-vuitton-and-dons-imeldific-hairdo-for-preview" data-desc="It's Cristine's first time to grace the fashion magazine's cover." data-image="https://contents.pep.ph/images2/writeups/c89bd2d30.jpg">