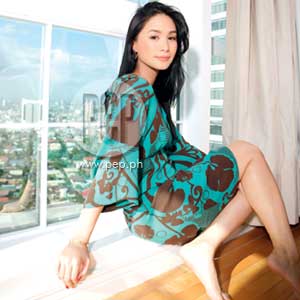 IMAGE 0
---
Heart Evangelista is in her Makati condo, being made up for her third YES! cover shoot. Looking fresh in her brown Charina Sarte maxi dress, she inspects a new lip color and exclaims, "Ang ganda ng kulay!"
The first chords of Sarah Bareilles's "Gravity" fill her bedroom from her iPod speakers. She flashes her trademark smile and sings along.
The actress and TV host-real name: Love Marie P. Ongpauco—looks like the same bubbly personality who first captivated the audience in a 1998 commercial for a deodorant.
But it is now more than a decade later, and a lot has changed. More importantly, Heart Evangelista has grown up. She still retains the charm and infectious energy that everyone fell in love with, but now she knows when to hold back and how not to wear her heart on her sleeve.
UPS & DOWNS. Heart shows us her high-school yearbook and opens it to the page that carries a photo of a very young Heart Evangelista.
She proceeds to read aloud: "Love Marie P. Ongpauco. I'm very understanding and down to earth. I love animals and I'm fond of painting and acting. I hope to become an actress someday."

"Di ba, natupad?" Heart tells YES!.

Indeed, showbiz seemed destined for Heart. Her first commercial paved the way for stardom. Suddenly she was everywhere—on television and movie screens, in magazines, on billboards, hosting or starring in ABS-CBN youth-oriented shows (G-mik, Berks), landing lead roles in movies (My First Romance, Because of U) and in teleseryes (Hiram), while picking up more than a handful of product endorsements (Palmolive, Vaseline, Kotex, Close-Up). She became the "It Girl" and an entertainment industry darling.
ADVERTISEMENT - CONTINUE READING BELOW

In 2005, Heart was cast in the TV series Panday, opposite Jericho Rosales, who played the title role of the sword-wielding hero. Their onscreen love team soon extended to real life, starting a much-publicized relationship that lasted two years and ended in an equally much-publicized breakup.

The intrigues Heart faced were primarily caused by her parents' disapproval of her relationship with Jericho. Some controversy also attended the couple's decision to change management, leaving Star Magic, under the tutelage of director Johnny Manahan, and moving to Manila Genesis Entertainment & Management Inc., under Angeli Valenciano.
Not long afterwards, Heart's showbiz exposure became visibly reduced. She found herself limited to hosting duties, occasional TV guestings, and a lead role in an indie film, Ay, Ayeng (2007). It looked like Heart was ready to move away from the spotlight.


THE BIG COMEBACK. But sometimes you can't take people away from their destiny. In 2008, Heart surprised the public by leaving her mother studio, ABS-CBN, which she had been identified with since she entered showbiz, and moving to the rival network, GMA-7.
She also got herself a new manager in the person of Annabelle Rama. It was under Annabelle's wing that Heart got the starring role opposite Richard Gutierrez, Annabelle's son and talent, in the primetime action-drama Codename: Asero.

Then, in another unexpected move, Heart took on her first major TV project as a title-roler, the telefantasya Luna Mystika, where she endured heavy prosthetics and became half of an untested love team with Mark Anthony Fernandez.

Heart reveals that stepping into the shoes of her dual character, Luna and Celestina, gave her the jitters: "It's scary because not all the telefantasyas do well. 'Tapos, ako iyong artista, so parang, 'Ano na mangyayari sa 'kin?' May nagsabi na no'ng presscon ng Luna Mystika, ang dami daw reporters na nagtaasan ng kilay no'ng lumabas ako with Mark. Parang, 'O, ano'ng mangyayari sa 'yo?' But I thought, 'Fine, you don't believe in me. But you know what? I'm gonna do it for myself and not for anybody else.'"
ADVERTISEMENT - CONTINUE READING BELOW

Heart's persistence paid off, and the show proved naysayers wrong. According to data from AGB Nielsen Philippines, Luna Mystika held a top spot in the primetime race, registering a rating of 38.9 percent for its pilot episode and 37.3 percent for its finale.
Looking back, Heart says she wouldn't mind doing another project similar to Luna Mystika, prosthetics and all. She has learned to appreciate the industry and the profession that have allowed her to pursue her passion. "I love my job. I mean, where in the world can you find somebody who loves what they're doing and is actually doing well? Kasi mahirap iyon, e. May mga iba, gusto maging ganito, but they have no choice but to stay in the office."

Last June 8, Heart's latest outing, Sine Novela Presents: Ngayon at Kailanman, which falls under GMA-7's Dramarama sa Hapon, had its initial airing. The teleserye, starring Heart and JC de Vera, scored 21.1 percent in the AGB Nielsen Philippines' ratings card for that day, coming in third, following Dapat Ka Bang Mahalin? and Eat Bulaga!

If she had her way, Heart says, she would give herself two more years in the soap-opera genre, before fully transitioning to TV host. Right now, she hosts a QTV-11 show, Fashionistas by Heart, which airs every Saturday at 6 p.m. "Hosting that show is my favorite," she says. "It's something I like to do—talk about fashion."

As a celebrity with a flair for fashion, Heart has an enviable collection of clothes, shoes, and luxury handbags. But these days, she's trying to control her impulsive buying, which is why she has gotten rid of her credit cards.
ADVERTISEMENT - CONTINUE READING BELOW

"My mom confiscated them, at sinurrender ko naman," she reveals. "I need to set my goals straight. Money in showbiz is fast. You don't want to take it for granted. Sayang naman iyong pera, parang kasalanan na rin to spend so much. Before, I wanted to collect all the Hermès bags, but what the heck? An Hermès bag is already a down payment for a studio apartment that you can have rented out, you know? So it's not practical. And I want to be practical."


BEYOND SHOWBIZ. Now, Heart is standing on stable ground. Her career is going well, and she has also reconciled with her parents.
Her father, Reynaldo Ongpauco, serves as her co-manager. On the day of the YES! shoot, Heart gets a visit from her mom Cecille, and the two have a girls' day out.

It is evident that Heart is happy with her family's renewed ties. Although she admits to being independent, she recognizes that she still turns to her parents for advice.
"I am independent in a way that I make my own decisions with my personal life," she says. "But when it comes to my career, I depend on my family a lot because they have the wisdom to discern kung ano'ng tama sa 'kin, di ba? I'm only 24. I'm still young, and I still need guidance, but when it comes to my personal life, I decide for myself. I decide who I'd like to love, you know."

At the time of the YES! interview, the man Heart has decided to love is a businessman named Francisco Delgado, but the latest report is that their relationship, which lasted less than a year, has since come to an end.
ADVERTISEMENT - CONTINUE READING BELOW

The 24-year-old Heart says at the time of the YES! interview that she is in no rush to settle down: "I don't want to set an age for marriage because I don't want to be disappointed. But I don't want to wait until I'm older to have children. I wanna have a family, I wanna do things right. I believe in marriage."

One thing's for sure: Heart wants to do a lot of things while she's still young. "That's one thing I can promise myself, to achieve my goals in life. I believe in being celebrated, achieving while you're young."

Somehow, Heart knows that she has her past relationship to thank for this realization. She explains: "Basta kung ano man iyong nasa akin ngayon, gagawin ko na para pag tapos na 'ko do'n, pag pinili ko na to graduate to the next stage in my life, alam kong na-fulfill ko. Hindi tulad dati na I rushed into, you know, certain things na parang hindi pa 'ko whole. I wasn't whole as a person. Kaya marami pang mga naging problema, kasi hindi pa 'ko buo, e. Hindi ka pa kontento sa nagawa mo."

For now, Heart is focused on her job. She also plans to go back to school. She has yet to decide which school to enroll in or what course to take, but believes that what's important is that she has decided to continue with her education: "I believe in finishing school no matter what age you finish. I want to think about my future because I don't want to bank on being in showbiz for a long time."
ADVERTISEMENT - CONTINUE READING BELOW

Having experienced the ups and downs of showbiz, Heart wants to have a sturdy fallback in case things turn rough again. "I know things are well again," she says, "but with everything, you never know. And I don't want my life to revolve on showbiz alone."

And what are her dreams for the future? "I want to develop my brand," she replies, somewhat enigmatically.

She's not referring to a particular product brand, but to an image in the public mind, an identifying mark. "Siyempre, when you're an artista, you develop a brand," she explains, "and I want to use this brand to help other people, reach out to other people. Which is very common now, but it's still an achievement for me. I want to get into design, I want to get into retailing, I want to get into restaurants. There are a lot of things that I can play with. But I can't do that now because I'll spread myself too thinly, so I need to focus on what I'm doing."

Heart, now dressed to go out with her mother, sits by her dining table and applies mascara on her lashes. The lady is a master at multitasking-answering our questions, grabbing a bite of pizza, fixing her hair. But she does it all with the grace and accuracy of a pro, much like she does with her life and career now.

When we tell her this, she says: "I need to. Life is so fast. Life is so fleeting. You don't really know what's going to happen, so you really need to establish yourself now that you're ahead."
ADVERTISEMENT - CONTINUE READING BELOW
(ED'S NOTE: The interview was arranged for the July 2009 issue of YES! magazine. At present, Heart is no longer under the talent management company of Annabelle Rama. And her present squeeze? Brazilian-Japanese model turned actor Daniel Matsunaga.)