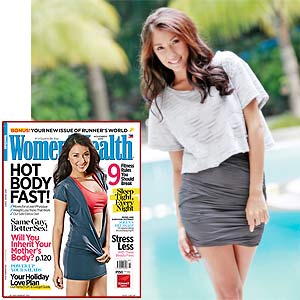 IMAGE 0
---
"Even if I was a fan of the show, I didn't think I could do it."
That's what Solenn Heussaff first thought when she toyed with the idea of auditioning for Survivor Philippines.
She tells Women's Health Philippines as she graces their cover this November, "During the screenings, they asked me if I could swim and if I was ready for potential injury... But I told myself I can do rough living. If you're brought up right, you can deal with things like that."
She may have been marked as the show's socialite, but she asserts that she is anything but.
In fact, her family wasn't always well-off. "My mom had to fight for food with her sister. Dad had to quit school at 13 because they couldn't afford it," she says.
Solenn adds, "They worked so hard to give us a comfortable life... [and] while I've always been appreciative, I learned to appreciate everything a little bit more since Survivor."
The 36-day experience was much harder than TV made it out to be, but it was a good thing that Solenn prepared herself for it. Her physical preparation included training harder and working overtime at the gym.
"I did more weights, trained in the pool, and did more intense workouts... Then I regulated my diet because I was going to be in a bikini on TV for a month!" she says. She also prepared herself mentally for the challenge by researching on the island and the plants and animals there.
ADVERTISEMENT - CONTINUE READING BELOW
Solenn is still in the running to be the Ultimate Survivor, and it's largely because of her mindset: "Anyone can do anything, if you set your mind to it."
Read more about Solenn in the November issue of Women's Health, available in newsstands, bookstores and supermarkets nationwide. For more of Women's Health online, become a fan on Facebook via Facebook.com/womenshealthphilippines.
SHARE THIS STORY Survivor Philippines" data-url="https://www.pep.ph/lifestyle/23292/solenn-heussaff-from-socialite-to-sturdy-castaway-in-survivor-philippines" data-desc="She also relates how she made the made the switch from being a socialite to survivor." data-image="https://contents.pep.ph/images2/writeups/d03c03596.jpg"> Survivor Philippines" data-url="https://www.pep.ph/lifestyle/23292/solenn-heussaff-from-socialite-to-sturdy-castaway-in-survivor-philippines" data-desc="She also relates how she made the made the switch from being a socialite to survivor." data-image="https://contents.pep.ph/images2/writeups/d03c03596.jpg"> Survivor Philippines" data-url="https://www.pep.ph/lifestyle/23292/solenn-heussaff-from-socialite-to-sturdy-castaway-in-survivor-philippines" data-desc="She also relates how she made the made the switch from being a socialite to survivor." data-image="https://contents.pep.ph/images2/writeups/d03c03596.jpg">
SHARE THIS STORY
Survivor Philippines" data-url="https://www.pep.ph/lifestyle/23292/solenn-heussaff-from-socialite-to-sturdy-castaway-in-survivor-philippines" data-desc="She also relates how she made the made the switch from being a socialite to survivor." data-image="https://contents.pep.ph/images2/writeups/d03c03596.jpg"> Survivor Philippines" data-url="https://www.pep.ph/lifestyle/23292/solenn-heussaff-from-socialite-to-sturdy-castaway-in-survivor-philippines" data-desc="She also relates how she made the made the switch from being a socialite to survivor." data-image="https://contents.pep.ph/images2/writeups/d03c03596.jpg"> Survivor Philippines" data-url="https://www.pep.ph/lifestyle/23292/solenn-heussaff-from-socialite-to-sturdy-castaway-in-survivor-philippines" data-desc="She also relates how she made the made the switch from being a socialite to survivor." data-image="https://contents.pep.ph/images2/writeups/d03c03596.jpg"> Survivor Philippines" data-url="https://www.pep.ph/lifestyle/23292/solenn-heussaff-from-socialite-to-sturdy-castaway-in-survivor-philippines" data-desc="She also relates how she made the made the switch from being a socialite to survivor." data-image="https://contents.pep.ph/images2/writeups/d03c03596.jpg">