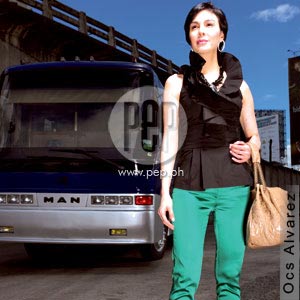 IMAGE 0
---
In February 2008, Gretchen Barretto surprised everybody by launching a music career under Star Records via her self-produced debut album Unexpected, a 12-track disc containing jazzy renditions of timeless love songs. The album went platinum after only three months.
The following year, she wanted to duplicate the feat so she launched her second release, Complicated, a 14-track CD following the same formula, but with the addition of two original songs, "This Far" and "Complicated," both composed by Louie Ocampo.
At the time of the magazine's publication (July 200), the album was on its way to becoming gold.
It looks like Gretchen now has what every star dreams of: the choice and the means to do what she wants, when and how she wants it. This was a luxury she didn't have during her younger and more difficult days in showbiz, when she had to work double time—or lagare, in showbiz parlance—to earn her keep and secure a permanent place in the biz for herself.
And why not? Being the love partner of business magnate Antonio "Tonyboy" Cojuangco certainly lifts pressures off her shoulders.
"Yes, there's a difference," she says, comparing Gretchen past and Gretchen present. "I'm older now, and I know I have a choice. Back then I was younger, and I didn't know that I have the choice. To me, you know you have a choice, you believe you have it, then you make the choice. I love that I have the choice."

So now, she works when she feels like it. "If I'm not physically, emotionally, or mentally ready for my public—when I know I'm not in the mood—then I will not show my face."
ADVERTISEMENT - CONTINUE READING BELOW

In her two albums, Gretchen coquettishly reveals her romantic yearnings through the curious dedications in her CD covers.
In Unexpected, she openly discusses her desire to get married. Part of the dedication goes: "My dear groom to be: Our music has captured life at its finest. Our precious moments can wither away my darkest shame. Our love is born... For telling me you'll take the good and not so good times and that you love me anyway... I live for the moment when we will finally say 'I do.' Your wife to be, Bridey."

Complicated carried a similarly intriguing dedication, which, Gretchen says, talks about her current feelings. Part of it reads:

"I often find myself in a state of being in love and out of love. I simply cannot escape my addiction to love and to what love may bring. Bliss in finding the true meaning of love and excruciating pain... extreme loneliness in the absence of love. My music will usher you through my most treasured moments.

"My dearest groom to be, our music has captured life at its finest, our precious moments can wither away my darkest shame, Our love is born! To us who dare to love shall love forever.

"For the way your eyes sparkle when you look at me, for the golden smile that greets me, for the warm embrace that tells me all will be well, for the constant laughter that drives my tears away, for telling me that you'll take the good and not so good times and that you'll love me anyway. For choosing to focus on my strengths. For songs you sing to me.
ADVERTISEMENT - CONTINUE READING BELOW

"I live for the moment when we will finally say... I do. Your little one, your wife to be... bridey."

In true Gretchen fashion, she remains vague and coquettish, refusing to talk about her "groom-to-be." It's public knowledge that legal impediments prohibit Tonyboy from marrying her.

"You know the dramatic kind that I am?" she says. "It's actually speaking to anyone... Well, it's a dream of every girl, right? So, parang, when I think of my groom-to-be, I don't know who he is. I don't know if he's there."

Then, she muses, "No one knows until you say the 'I do' or until you've said 'I don't.' Anything can happen. And who knows? It may never happen. You know? Gano'n ang buhay, e."

She adds with a soft laugh, "You can't have everything, they say. Who knows? I might have everything! Who can tell, right? Some people go: Girl, you can't have everything, don't complain! E, malay mo, I can, hindi ba?"

What's clear is that she's now on a roll, preparing for a third album. Before Unexpected, she underwent training with voice coach Annie Quintos, but the lessons stopped when Gretchen started recording and touring. She now trains with Annie whenever she feels that she's "losing her voice."
"This is really me," she says of Complicated. "It's not just a career move. It's more of expressing myself through music." Among the songs in the album, she feels a strong connection to "This Far."

"I really love that song because it really speaks to me," she says. "The lyrics is kinda like saying that it's not a perfect world. Whatever I don't have, I've come this far without it. Whatever it may be."
ADVERTISEMENT - CONTINUE READING BELOW
The eldest of the Barretto sisters truly enjoys singing.
"The whole recording was so much fun!" she gushes. "The minute I'd get there, we'd chat, lounge around, listen to the melody, and just get to know each other. But," she adds, "I also have to work around the schedule of my daughter. I have to be around if she has school, or if she's home for the weekend. Anything and everything will have to come second. Dominique will always come first."