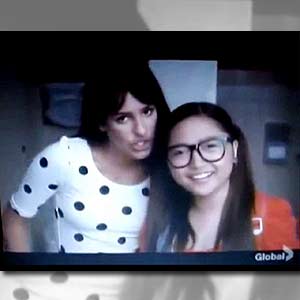 IMAGE 0
---
The long wait is over!
Charice made her debut appearance on the second season of the hit comedy-musical series Glee, which premiered today, September 22, on cable channels ETC and Jack TV.
The 18-year-old Filipino international singing sensation is one of the three new cast members introduced on the pilot episode of Glee Season 2—the others were Chord Overstreet (as Sam Evan) and Dot-Marie Jones (as football coach Shannon Beastie).
Charice plays Sunshine Corazon, who was described by the show's lead character Rachel Berry (played by Lea Michele) as "a foreign exchange student named Sunshine Corazon because you're from the Philippines where it's sunny every day!"
Charice first appeared on the show while the members of the McKinley High School's glee club, New Directions, performed their version of Jay-Z and Alicia Keys' "Empire State of Mind" to attract new recruits.
Then, Rachel approached Sunshine—who was wearing a pair of nerdy eyeglasses, a red blouse under a vest and denim short while carrying a Hello Kitty backpack—in the ladies room to encourage her to join the glee club. However, when she heard Sunshine sing Lady Gaga and Beyonce's "Telephone," Rachel immediately recognized her as competition.
Later on, Rachel was convinced by fellow glee club members Mercedes Jones (Amber Riley) and Kurt Hummel (Chris Colfer) that they need a new member who can help them beat rival group Vocal Adrenalin. But Rachel gave a fake address to the young foreign exchange student leading her to a crack house where, Sunshine said, "they stole my sheet music and used it as a toilet paper."
ADVERTISEMENT - CONTINUE READING BELOW
When Coach William Schuester (Matthew Morrison) found out about it, he made Rachel realize that they need Sunshine in the group. So, Rachel finally invited Sunshine to a real audition.
At the auditorium, Charice made every New Directions members' jaw drop while singing Beyonce's "Listen" from the Broadway play and movie Dreamgirls.
Unfortunately, the New Directions was too late. Charice was recruited by rival group Vocal Adrenaline.
"YOU MADE US PROUD, CHARICE." The former Little Big Star third-placer did not disappoint her followers in making a name not only in the Philippines but also abroad.
She already gave the nation an honor when she was able to show off her talent in Korea, Italy, London, and, of course, in the United States, where she appeared in several popular TV shows, including Oprah and Ellen.
Now, Charice made many Filipinos proud again because of her inclusion in the second season of Glee, considered as one of the most popular TV series in the world.
In the microblogging site Twitter, many Pinoys, including celebrities, congratulated Charice.
Here are some of them:
Angelica Panganiban: "@OfficialCharice ibang level! Kasama lang kita dati sa dressing room! Pinapanood ka na ngayon sa glee :) proud kami sayo!"
Tim Yap: "Goosebumps all over because of Charice ☺ go, Pinoy!"
Marie Lozano: "In the busy newsroom, whenever #Charice has a scene on GLEE everyone stops to watch her."
Anne Curtis said: "Congrats @OfficialCharice for making so many pinoys proud today!!! Such an amazing achievement! One day I know magiging ka-boses din kita! :p"
ADVERTISEMENT - CONTINUE READING BELOW
At press time, Charice is still part of the Top 10 trending topics on Twitter.
Charice also impressed the Hollywood press.
In the recap of ew.com, one of the leading entertainment websites in the world, Sunshine's debut performance got a glowing review from Tim Stack.
Stack wrote: "Charice/Sunshine's voice is insane, especially considering she's about the size of a lawn gnome and dresses like a Harajuku girl (although I do always love the addition of a nice beret). And just like Beiste's arrival brought out the beast in Sue, so too did Sunshine's debut provide a focus for the crazy machinations of our fair Rachel Berry, and that, in turn, shone a spotlight on Lea Michele's undeniable skills..."
Charice's rendition of "Listen" also got an amazing A+grade from Stack.
Stack wrote: "I wanted to stand up and cheer, but that seemed odd given that I was sitting alone in my office watching this episode. And Charice wasn't even singing live! Holy tiny lady! And she was wearing a beret! It was just all too good! Even the reactions from the crowd were fantastic, especially Rachel's attempt to hold it together."
Many believe that Charice really deserves to be part of Glee because her voice brings some threat, not only to the "very selfish" Rachel Berry but to the whole New Directions.
Being the new member of the Vocal Adrenaline, the McKinley High glee club will surely become more worried about beating them in the coming competition.
ADVERTISEMENT - CONTINUE READING BELOW
Acting-wise, the young singer-actress did not fail to deliver what was needed for her character. Although she only had minimal speaking lines, Charice recovered her chance to stand out on the show when she belted out "Listen."
Aside from the members of the New Directions, the former YouTube sensation has already wowed many people while singing her second Glee song in some of her previous appearances, including the Italian musical variety show Ti Lascio Una Canzone and the Oscar After Party hosted by Oprah Winfrey, who is now managing Charice's career in the U.S.
Charice, on the other hand, seems to be enjoying her portrayal of Sunshine on the show.
"Sunshine is very, very Charice. She's simple and shy. Sunshine Corazon is a very amazing character and I can just relate to her," Charice said in an interview with FOX.
To watch video clips of Charice's performances in Glee, CLICK HERE and HERE.