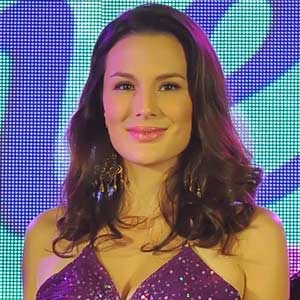 IMAGE 0
---
She has played many roles in her career─model, TV host, entrepreneur, environmentalist, and philantrophist─but Bianca Araneta-Elizalde cites motherhood as something she had always dreamed of.
Having been acquainted with the limelight and juggling her time to fulfill her roles, Bianca says she is "busier now...but calmer."
"I am more at peace. I am more relaxed. I am having the time of my life. It is a different kind of busy. Back then, it was always me [and] my life. Now, I've got other responsibilities," Bianca said in an interview last Friday, November 26, at the New World Resorts in Makati City. She was presented to the members of the press as the endorser of the milk brand Athena.
So what keeps Bianca busy yet relaxed these days?
Two pleasant concerns: taking charge of her "young family"—her husband, and two girls, aged one and four—and running her maternity line which she has been managing for a year now.
THE HAPPY MOTHER. Media scion and entrepreneur Juan Elizalde and Bianca married last July 7, 2007 in civil rites at Red, Shangri-la Makati, a month after she gave birth to their first-born bundle of joy, Isabeli.
As a young girl Bianca didn't think much about marriage. But she had always dreamt of becoming a mom. "I always knew I was gonna be be a mom someday; and I always wanted to be a mom," she smiled.
Bianca, who exudes an infectious positive aura, said that she has never been happier.
"Fantastic. I think that that is what I'm meant to be. I have tried tremendously being a mom. It was always a dream. So now I have my two little girls. It was such a huge blessing!," she exclaimed.
Bianca is a self-confessed hands-on mom.
"I spend a lot of time with my children. I am the one who puts them to bed at night. My eldest daughter she goes to pre-school, I take her to school in the morning. I wake her up, we do a lot of play dates. I take her around with me for whatever, to the mall and what-have-yous, we read books at night, watch movies together. I'm always with them, always with them," the proud mom of two said.
ADVERTISEMENT - CONTINUE READING BELOW
Playing the role of both mom and a wife, Bianca said that the time spent with their kids was never a problem or a hindrance for the growth of their relationship as a couple.
"We both really enjoy our time with our kids. So, we don't feel like we are not spending time with each other, because we like that. We like having that family union," Bianca said.
Most of the time, the couple have their alone-time together by watching movies at home, after putting their kids to bed
"He is also very busy so we really have to make time to be together alone. With each other and the children, it is just fine," Bianca related.
LIVING A HEALTHY LIFESTLYE. Aside from her family life, another thing that makes Bianca happy is a clean and healthy lifestyle.
She feels flattered to be chosen as one of the newest endorsers of a milk brand, specifically made for women.
"They wanted a woman that embodies a very healthy lifestyle. They have a very specific women in mind. And I'm glad that I fit the bill. I was very happy that they chose me," she said.
Bianca, who doesn't drink and smoke, explained the importance of living a clean and healthy lifestyle.
"My advice would really be take care of yourself, take care of your health, actually. Like, I'm very big on living a healthy clean lifestyle. I'm hardly ever out. I eat very well. I think that this shows as well. My advice is just to take care of themselves and be healthy and embrace a healthy lifestyle," Bianca said.
She also stressed the role played by milk in our diet.
"It is very important for women, especially when you are going older in life that when you have a good source of calcium and we all know that milk has it and provides this for you. So, it's important to take in that calcium," Bianca explained.
ADVERTISEMENT - CONTINUE READING BELOW
She also didn't forget to include exercise in the formula. Bianca shared that she runs whenever she can as well as Pilates twice a week. She involves her husband in the exercise regime.
"It is something that we do as a family," she said.
SIMPLE DRESSER. Although known for her bikini poses as a model and for her glam photos, Bianca confessed that she is actually a simple dresser when not in front of the cameras.
"My life is waking up early, bringing my daughter to school, squeezing in some exercise, running around my one-year old, picking up my daughter, you know, I'm very active so I dress very comfortably," Bianca described her usual daily routine.
The model and socialite says that she is not really into designer items, but cites designer Rajo Laurel as her trusted couturier whenever she has to attend functions and events.
"But, I don't go out too often. Like, I don't go to events very often. I'm not one of those women who constantly need to be dressed-up," Bianca followed-up.
She adds,"In general, Im very casual, very low maintenance when it comes to fashion."