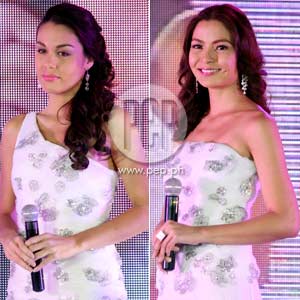 IMAGE 0
---
A celebration of women's healthy lifestyle was showcased last Friday, November 26, at the launch of the Athena milk brand at the New Resorts World in Makati City.
Advocates of health and beauty—TV reporter Lia Cruz, Ms. Earth-Air Philippines Sandra Seifert, beauty columnist Risa Mananquil-Samson, and model and TV host Bianca Araneta—graced the event.
Lia, Sandra, Risa and Bianca discussed how living a healthy lifestyle makes a big difference in women's lives.
Moderating the informative discussion was the host of the event, model and makeup artist Bianca Valerio.
Lia Cruz talked about being healthy in her line of work as a reporter.
She said that "working in a male-dominated industry" is no joke. One must have the energy throughout the day, Lia said.
On the other hand, beauty queen and model Sandra Seifert banks on nutrition, "I think that nutrition is very important. The food that we eat translates to every part of our body─ to our skin, our eyes, to every single part of our body.
Sandra emphasized the importance of making the right choices in food. Load up on fiber-rich foods, she advised.
The beauty queen recommends a full-body workout to complement a healthy diet.
She singles out swimming as a good way of breaking the sweat without actually feeling sweaty.
"You can even get a tan just by regularly swimming in the pool," she quips.
Meanwhile, beauty columnist and model Risa Mananquil shared the sure way to happiness.
"Having a healthy lifestyle has its benefits. Aside from looking good inside [and] out, it will change your mood, posture, your attitude. The more good you feel about yourself, then it will show outside, then you are happier!," the statuesque beauty expert beamed.
The host, Bianca, followed it up with a witty remark, "People will not invest on you if you do not invest on yourself."
ADVERTISEMENT - CONTINUE READING BELOW
Such remark got approving nods from the audience that night.
How is healthy lifestyle important to beauty?
Lia said that beauty and nutrition are pairs but puts primer on nutrition, "Beauty is very important. Even for those that do not need to bank on physical attribute for career. It is very important to feel good about yourself.
"The thing is, beauty and nutrition go hand in hand. If you are healthy, it will reflect on the outside. If you go for beauty, you might just go for nutrition," the TV reporter said.
Beauty queen Sandra Seifert added, "Being a beauty queen, people look up to us. There is pressure to set a good example. We really have to take good care of ourselves. Just take note of our diet and everything will follow."
Lastly, Risa gave out interesting food for thought: "There are three things that affect our appearance: first is our genes; second is the way we take care of ourselves inside─what we eat, what we drink; and then we take care of ourselves outside─the way we dress, exercise, care for our skin."
Risa summing up her point said, "Fact is, your genes may be out of control but the rest isn't. "
Model and socialite Bianca Araneta stressed that women must practice a healthy lifestyle as they play their different roles in life.
"My advice would really be, take care of yourself, take care of your health, actually. I'm very big on living a healthy clean lifestyle. I'm hardly ever out. I eat very well. I think that this shows as well. My advice is just to take care of themselves and be healthy and embrace a healthy lifestyle," Bianca said.
Bianca is a model, environmentalist, philantrophist, host, and entrepreneur. She is also the wife to media scion and businessman Juan Elizarde and mom to two young girls.
ADVERTISEMENT - CONTINUE READING BELOW