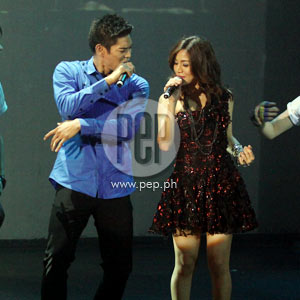 IMAGE 0
---
Jay R and Kyla showed what artistic versatility was all about last November 29 as they staged their one-night concert titled Soulmates at the Music Museum in Greenhills, San Juan.
The live event offered the public a perfect glimpse of what the two performers could do well both together and individually on stage.
Although Kyla and Jay R have constantly worked together both inside and outside the studio on several occasions, Soulmates aimed to show the evolution of the two as complete performers not limited by genres and musical trends.
Before the two showcased their talents, the crowd enjoyed performances by The Studes, Isabella, Jet Noguchi, Kevin Cisco, and beauty queen Krista Kleiner—all of whom are currently being managed by Arnold Vegafria of ALV Events International.
INTERESTING MIX. The concert started out with high energy numbers as Kyla and Jay R jumpstarted the evening with certified club favorites, "I Got A Feeling," "Meet Me Halfway," and "Love, Sex, Magic."
Kyla and Jay R relayed to the audience what to expect—a whole lot of music touching on soul, dance, R & B, ballads, and even standards.
Jay R then proceeded to take a solo spot number by dishing out Flo Rida's "Club Can't Handle Me" and then following it up with a medley of songs by British singer-songwriter Jay Sean.
Not to be outdone, Kyla performed Jay-Z and Alicia Keys' "Empire State of Mind" and "When Love Takes Over."
Kyla opted to slow things down and set the romantic mood by singing Janet Jackson's 1987 hit single "Let's Wait Awhile," before jumping to Alicia Keys' "Try Sleeping With A Broken Heart."
Jay R—who mentioned Stevie Wonder and Luther Vandross as only some of his all-time favorite singers—mesmerized the crowd with his striking rendition of Whitney Houston's "Run To You."
Seated a few rows away from the stage was Jay R's girlfriend Krista Kleiner, who was obviously very proud and captivated by the performance.
ADVERTISEMENT - CONTINUE READING BELOW
Picking two of his favorite songs from the 2008 Soul in Love cover album, Jay R dished out "Neither One of Us"—which according to the singer is his manager, Arnold Vegafria's personal favorite—and Joe's "No One Else Comes Close."
Jay R, this time joined by good friend Kris Lawrence, dedicated "Just The Way You Are" to Krista Kleiner.
The song, which was originally recorded by Bruno Mars, was well received, with Jay R inserting the words, "Krista's so beautiful, and I tell her everyday..." into the lyrics.
KC Montero rendered the rap part in Jay R's performance of Travie McCoy's modern hit single "Billionaire."
Aside from the celebrity guest performers, PEP (Philippine Entertainment Portal) spotted Billie Crawford, Iya Villania, John Prats with date Rachelle Ann Go, Ahron Villena, Regine Tolentino, and Kyla's cager boyfriend Rich Alvarez, watching the concert.
STANDING OVATION. Kyla earned a standing ovation from the impressed crowd with her rendition of the jazz standard "How High The Moon."
The reserved singer proved just how versatile her range was, hitting the high and low notes interchangeably while brandishing her mastery of the so-called "scat singing"—a known style in jazz performance where nonsense syllables are substituted for either words or instrument notes.
The performance served as one of the concert's memorable highlights, proving that Kyla's talent and versatility stretches beyond mainstream pop and R&B tunes.
"Wow!" Jay R could only exclaim after Kyla's brilliant performance of the Morgan Lewis and Nancy Hamilton composition.
Jay R's performance of classic OPM hits was just as impressive, singing instant local favorites such as "Ikaw Lamang," "Ikaw Lang Ang Mamahalin," and "Himala."

Jay R and Kyla finished their last set by egging the crowd to get up and party through the dance numbers "OMG" and "Telephone."
The evening didn't end there as both returned to do an encore, with Kyla coming out first from the backstage by performing her early hit "Hanggang Ngayon."
ADVERTISEMENT - CONTINUE READING BELOW
Kyla and Jay R picked up from where they started the entire event via Lady Gaga's "Bad Romance," Craig David "Insomnia," and Nelly's "Party People.
Soulmates turned out to be more than just a fun concert. For Jay R and Kyla, the live event might as well be regarded as the evening when they demonstrated that their talents far exceed the Prince and Princess of R&B titles that have been bestowed on them from the beginning.