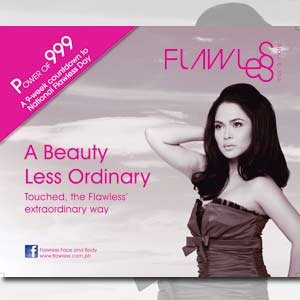 IMAGE 0
---
The date December 8 might as well be declared "National Flawless Day" as Flawless skincare clinic celebrates its 9th year anniversary.
Flawless—which counts celebrities like Lorna Tolentino, Richard Gutierrez, Judy Ann Santos, Yasmien Kurdi, Mark Herras, Alyssa Alano, DJ Mojo Jojo, Edward Mendez and Buch Francisco as its endorsers and loyal patrons—continues to cater to the skincare and beauty needs of the Filipinos.
"I am humbled that we've reached our 9th year. I am inspired by the growing loyalty of the Filipino, and I am so touched that the Filipinos understand how important it is to us (in Flawless) to take care of them. I believe that if you look good, you feel good, and you end up doing better. So this is kind of my way of giving back to the Pinoy," said CEO Rubby Sy, who founded the clinic in 2001.
Flawless, which now has 35 branches nationwide, develops skincare solutions to address the concerns of the local market from oiliness to acne to whitening to aging, and a lot more.
ADVERTISEMENT - CONTINUE READING BELOW
The clinic even launched a specialized line dubbed as the "Real Gentleman" to meet specific concerns of its men clientele.
In celebration of its birthday, Flawless will unveil a special promo called the Power of 999.
Counted in this promo list are the Nano Powerpeel, the Laser Hair Removal, the Mesoestetic Peels, the popular Flawless facial treatments, the Youth Booster injections, the efficacious wart removal, Flawless' non-invasive Meso Lipo and the amazing Flawless Product Kits with free facial treatment.
Most of these services are offered to the public for only P999.
Sy further added, "When you take care of your appearance, you walk taller, you carry yourself with more confidence, and you end up achieving your goals with more effectiveness. You develop pride in yourself, because not only have you achieved your goals, you've looked good doing it at the same time."
Three core values—humility, integrity, and passion—define the skincare clinic's vision and the team behind Flawless tirelessly find solutions to solve the Pinoy's common skincare concerns.
ADVERTISEMENT - CONTINUE READING BELOW
But above all things, the success of Flawless is based on the sheer number of people that are equally passionate about the clinic as the clinic is about them.
Flawless invites everyone on December 8 to celebrate in the success of the growing aesthetic clinic by trying out the offered services and its big anniversary savings promo.