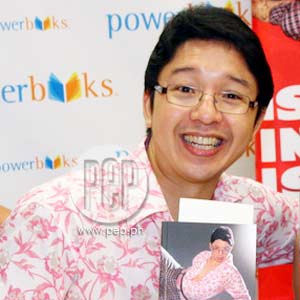 IMAGE 0
---
"Joey!!!"
TV viewers in the '80s would surely remember him as the cute, nerdy-looking kid who had a crush on Jenny in the Royal Tru Orange commercial series.
These days he's more popularly known as RJ Ledesma.
RJ recalls the project that made his character a household name: "Si Jenny, I know she moved na to the States several years ago. That's what I know...I haven't seen her ever since...It was an interesting story. That commercial gave me the chance to work with the best directors-the first one was Lino Brocka, then Ishmael Bernal, Peque Gallaga, and Jun Urbano."
He did not tread the path of showbiz. Instead, he focused on acquiring two degrees at De La Salle University—Bachelor of Science in Applied Economics and Business Management.
He did not become an economist. Instead, he pursued his first love—writing.
"It is my passion. I believe in the joy of writing," RJ tells PEP (Philippine Entertainment Portal). "I used to do fiction writing—short-story fiction. Hopefully, I can go back to it in the future. I did two full stories my whole life."
ADVERTISEMENT - CONTINUE READING BELOW
For now, he is the editor-at-large of a men's magazine, a newspaper columnist, and a "humorist."
He lights up while dishing out tips on how he writes with humor. "When you write humor, it has to sound effortless, e. It can't sound like it's...like you had a hard time doing it. It's a matter of observing the world from a more creative standpoint. Ibig sabihin, kunyari, you are looking at the world this way, kung ikaw ay isang humor writer, you have to put on a pair of those Cory glasses, you look at them differently to pick the humor."


The author has written three books so far:
Lies My Yaya Should Have Told Me: RJ Ledesma's Imaginary Guide to Whine and Women
I Do or I Die! RJ Ledesma's Imaginary Guide to Getting Married and Other Man-Made Disasters (As Told to him by his Yaya)
Is it Hot in Here or Is it Me? RJ Ledesma's Imaginary Guide to Flirting, Body Language and Pick-up Artist (Recently reeased)
He launched the third one last month, wearing a floral polo, a pair of pencil-cut checkered pants, and snakeskin shoes.
About his outfit, he said, "I am proud to say I am my own stylist. This is all from my closet..."
ADVERTISEMENT - CONTINUE READING BELOW
What's "Hot" about his latest book?
"It is a compilation really of my weekly column in Philippine Star called 'Pogi from a Parallel Universe.' And really, my inner challenge is, I wanted to write a relationship column. Sabi ko, 'Ano ang alam ko about relationship column?' But I know how to read very well and I'm a geek that way.
"So, nag-research ako on the anthropology of relationships, on the science behind it. And I already know some things about biology, about anatomy, about psychology, which really affects the way we bait and we date people.
"And sometimes when you think that the truth is not out there? The truth has been there for millions of years on how men and women interact pala. And that's really the origin of this book."
Thirty minutes into talking with RJ gives us a foretaste of his "imaginary guide." He says the book will come in handy for the single men and women who want to recognize and understand the "should-not-be-missed" moves better.
ADVERTISEMENT - CONTINUE READING BELOW
1. Who initiates?
In courtship, tradition dictates that guys make the first move. But in terms of body language, "It's the woman!"
Author RJ explains, "The woman actually, subconsciously, makes five times more body language signals than the men. Sometimes they make about 52...Ang mga babae, parang Manny Pacquiao, e, papadaan, punch nang punch ng mga body signals, and sana may mapulot ang lalake with those body signals. And when he does, the man thinks he's actually making the first move to go to her when in actuality, the woman has all the signals for him to approach."
RJ dubs the lady's series of first moves as "Super 1234," meaning, it takes four easy steps to tell a guy she's interested.
"Unang ginagawa, she'll flip her hair. Flip the hair back, then, sabay yung head flip. Hair toss, head flip, at the same time, konting tawa. Then, cover the mouth, di ba. And then, she'll look to you, head to the side, look away, or tilt the head," he describes.
ADVERTISEMENT - CONTINUE READING BELOW
These are all "female submission signals," says RJ. "Ibig sabihin niyan, I am okay with you coming near to me."
Is It Hot Here or Is It Just Me? will help men to translate the ladies' body signals.
The magazine editor who's also a certified yoga instructor explains: "Kasi kung tutuusin, pagdating sa body language, yung mga babae, para silang mga doctorate sa linguistics. Ang mga lalaki, nasa kindergarten pa sila. So we have to learn. Like, for women, alam ninyo, pag kunyari may boyfriend kayo, at nasa isang party kayo, alam ninyo kung may isang babae who'll start to flirt with the guy, with your guy. Pero yung lalaki, no clue at all. Because we don't understand this body language very well."
2. Who's better at spotting a likeable person?
The most common notion is that flirting just involves an exchange of glances and a few words. But RJ says, "It has five stages."
ADVERTISEMENT - CONTINUE READING BELOW
He elaborates, "It's not just one stage, e, to know that somebody really likes you. Stage one is yung tinatawag na 'kulang sa pansin phase'. Pinag-aralan 'to by this doctor named Dr. Helen Fisher. She wrote the book Anatomy of Love, and ginagawa from Africa to Europe to the Philippines.
"When a girl comes into a room, the first thing she will do is, she will look across the entire room, parang walang tinitignan. Parang sa bar, parang walang tinitignan na lalaki."
But reality is, a lady can scan the entire room in just a few minutes.
Again, RJ explains, "Mas magaling ang peripheral vision ng girls kesa sa mga lalaki. Lalaki can only see maybe this much [gestures narrow view]. Girls can see all the way up to here [motions wide view].
"So ginagawa nila, they're looking for available men na okay. After that, uupo sila to get their territory.
ADVERTISEMENT - CONTINUE READING BELOW
"Anong ginagawa ng babae? Kukunin mga bag nila, kunyari kinakalkal, nagli-lipstick, nagte-text sa phone. Yun pala ang ginagawa diyan, pinapansin, minamasdan ang mga lalaki. When they find the guy that they like, [ang] gagawin nila, they will look at him, di ba? Pero di pa titingin yung lalaki, di pa niya papansinin. When he finally sees her looking at him, she'll look a bit, she'll look down, she'll look away, smile a bit, and look okay."
The entire process makes up the "kulang sa pansin phase," which is "actually stage two, stage of getting closer to her."
3. What's the indicator?
What comes after flirting are a series of developments that can be determined by distance.
"The technical names are the screening zone, the personal zone, the intimacy zone," RJ begins. In his book, he changed the terms, adopting the lingo of pop culture.
"I use a lot of self-deprecation. Kasi ang Pinoy, they make a trip of themselves, e. My point, I just do it in English, at the same time, when I put something like Pacquiao over there, or a bit of Dolphy over there, people get to appreciate it more," explains the 30-something celebrity.
ADVERTISEMENT - CONTINUE READING BELOW
So, he refers animatedly to the zones as "mega-social distances."
Continuing his story, "First one is 14-18 feet away, I call that the Michael V distance. Medyo malayo, e. And there's about 4-8 feet away, I call that the Rico J. Puno distance. The next one is about 2-4 feet away, I call that the Vic Sotto distance. And the intimate distance, that's what I call, 18 inches, the Dolphy distance."
And the closer you get to the person, the more successfully you reach your goal.
4. Do pick-up artists exist in the Philippines?
RJ affirmed, "Yes, there is a group of pick-up artists na professional who teach how to pick up women."
Some people have a way with words. Others choose the path of flaunting. It's easy to spot the men who know exactly what to do to catch attention. People in general do not rationalize their behavior. But girls who are looking will not miss these males.
ADVERTISEMENT - CONTINUE READING BELOW
The book introduces the term peacocking.
"Bakit ako nakasuot ng ganitong magagarbong outfit na makukulay? Alam mo yung mga peacock, those are the male version of the peahens, di ba? Peacock, malalaki ang kanilang mga tails. Makukulay sila and that makes them attractive to the females. Pero pag sa predators, mahirap tumakbo kasi malaki yung tail mo. But seemingly, that's what makes them attractive to women.
"So, the same way pagdating sa mga lalaki, how do they stand out from the crowd? Ginagawa nila, they wear very colorful outfits because napapansin sila. The girl would go, 'Ano ba yung istorya ng lalaking yun at nakaganyan ang suot niya? So, they're [women] curious. First step down.
"Second step, they can go near the girl. And when they go to the girl, they will show something of social value. Bakit sila mas magaling sa ibang lalaki? They will show you a card trick, a magic trick...They'll read your mind. Make fire come out of their hand. They will do cartwheels...Anything that would make the ladies not easily forget them."
ADVERTISEMENT - CONTINUE READING BELOW
In a nutshell, RJ's "imaginary guide" is "three years worth of writing based on the idea that it is anthropological in nature; it's really scientific if you look at it; it's really based on a lot of research; it's not coming from me."
World-famous stars, like Justin Bieber, had to hire "flirting" advisers to make themselves even more swoon-worthy to their fans. Locally, RJ's insights would elicit a lot of "Oo nga, 'no?"
When asked if he would consider being a "flirting adviser" to the celebrities, he answered, "Justin Bieber scares me..."
And as an afterthought, "As long as I get the approval of my wife and my parish priest, I'm there."
HIS OTHER PASSION, ACTING. From Joey the commercial model to RJ the writer, the happily-married guy is seriously contemplating the "actor" tag to add to his credentials.
"I come from Repertory Philippines as my acting background. I did win a couple of awards for acting in college. I'm open to everything," he beams.
ADVERTISEMENT - CONTINUE READING BELOW
He mentions his showbiz-related projects: "I have a new movie coming out. It's Senior Year. It was rated A by the CEB [Cinema Evaluation Board]. It's part of the Metro Manila Film Fest, and it's coming out a week before the actual date... It's directed by Gerald Tarol.
"I also did a movie with Arnold Array, the artist, the Martial Law Babies [author]. We had a trip to Tagaytay. I did a movie with him called Paper Comics.
"I worked with Sam Milby with And I Love You So, [and] Working Girls as well. I was in Habang May Buhay. I was also in Magkaribal. I'm currently the host of Math Tinik for ABS-CBN Foundation...
With a tinge of both humor and despair in his tone, he pleads, "I want o get back into show business. So, paging Tita Charo [Santos, ABS-CBN], Mother Lily [Monteverde, regal Films, Boss Vic [Del Rosario, VIVA].
ADVERTISEMENT - CONTINUE READING BELOW
But while he's waiting for the project that will catapult him to stardom, he happily wears his writer's hat.
"Ako pag nagsusulat, dalawa ang gusto kong gawin at the same time—number one, to entertain, and number 2, to educate. So by the time that you are done, tumawa ka na, may natutunan ka pa. Even when I was younger, idolo ko sa writing is Jessica Zafra, I wanted to write my own book. Finally, I did. And my biggest achievement when it comes to the writing world is that one day, Jessica actually gave me her book and said, 'RJ, can you review this for your column.' And for me, 'Wow! Idol ko is asking me to [review] her book.'"
Our interview ends with RJ's typically humorous plug: "Sa mga lalaki, single since birth, ito na ang pag-asa ninyo. The answer is RJ Ledesma and 220 pesos. Sa mga single ladies out there, ito po ay gamitin niyo bilang agimat sa mga evil, scheming men."
ADVERTISEMENT - CONTINUE READING BELOW