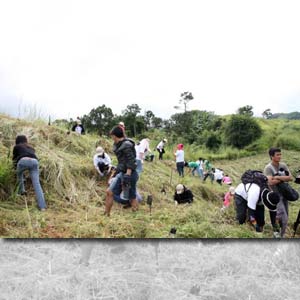 IMAGE 0
---
PRESS STATEMENT FROM GMA-7:
"GMA Network, Inc. (GMA) extends its 'Kapuso ng Kalikasan (KNK)' brand through a series of CSR projects that promote biodiversity and conservationism.
"GMA's Kapuso Volunteers recently trooped to Tanay, Rizal and planted 1,000 trees as part of Haribon's Road to 2020 Project. Haribon's Road to 2020 project aims to restore one million hectares of Philippine rainforests by year 2020 by planting native tree species.
"During the tree planting activity, GMA Volunteers planted 22 species of native seedlings, namely, Malapapaya, Malaruyat, Mambog, Marang, Narra, Palakpalak, Palosapis, Puas, Tamayuan, Tibig, Kupang, Antipolo, Balobo, Batino, Bitaog, Igyo, Bolong-eta, Malaikmo, Lanite, Lauan, Ligas, and Makaasim.
"The Rizal provincial government, for its part, supports the project through the employment of farm workers who care for the trees and ensure their growth and development.
"Under its Kapuso ng Kalikasan brand, the network forged a partnership with the Haribon Foundation for the project billed, Adopt-A-Seedling/Tree Planting campaign. Now on its second year, the campaign aims to preserve the country's biodiversity through rainforestation, which entails the planting of native seedlings. GMA employees and talents, as well as employees of GMA subsidiaries, were encouraged to donate seedlings priced at P100 each. Car owners from GMA, meanwhile, were encouraged to adopt at least 10 seedlings at the cost of P700 to compensate for the amount of carbon emitted by their vehicles.
"Among the GMA officers present during the tree planting activity were GMA Consultant for Corporate Affairs Chit Arce, GMA AVP for Corporate Affairs Teresa Pacis, and GMA AVP for Supply Management Vicky Arradaza.
"'More than just a broadcast company that operates on-air, GMA remains highly conscious of its corporate social responsibility. Given a tree planting event that secures the participation of employees and officers alike, plus the involvement of the benefiting community and partner institutions like Haribon, we are positive the project can impact the environment and the generations to come,' said Arce."
ADVERTISEMENT - CONTINUE READING BELOW
Ed's Note: When content falls under "Press Statement," this means that the material is fully and directly from the TV station itself. The use of open-and-close quotation marks to envelope the entire text shows as much. This also means that PEP is not the author of the statement being read. PEP is simply providing the information for readers who may be interested.
SHARE THIS STORY Haribon's Road To 2020" data-url="https://www.pep.ph/lifestyle/23547/gma-networks-kapuso-ng-kalikasan-project-supports-haribons-road-to-2020" data-desc="More than 1,000 trees are planted." data-image="https://contents.pep.ph/images2/writeups/b548df052.jpg"> Haribon's Road To 2020" data-url="https://www.pep.ph/lifestyle/23547/gma-networks-kapuso-ng-kalikasan-project-supports-haribons-road-to-2020" data-desc="More than 1,000 trees are planted." data-image="https://contents.pep.ph/images2/writeups/b548df052.jpg"> Haribon's Road To 2020" data-url="https://www.pep.ph/lifestyle/23547/gma-networks-kapuso-ng-kalikasan-project-supports-haribons-road-to-2020" data-desc="More than 1,000 trees are planted." data-image="https://contents.pep.ph/images2/writeups/b548df052.jpg">
SHARE THIS STORY
Haribon's Road To 2020" data-url="https://www.pep.ph/lifestyle/23547/gma-networks-kapuso-ng-kalikasan-project-supports-haribons-road-to-2020" data-desc="More than 1,000 trees are planted." data-image="https://contents.pep.ph/images2/writeups/b548df052.jpg"> Haribon's Road To 2020" data-url="https://www.pep.ph/lifestyle/23547/gma-networks-kapuso-ng-kalikasan-project-supports-haribons-road-to-2020" data-desc="More than 1,000 trees are planted." data-image="https://contents.pep.ph/images2/writeups/b548df052.jpg"> Haribon's Road To 2020" data-url="https://www.pep.ph/lifestyle/23547/gma-networks-kapuso-ng-kalikasan-project-supports-haribons-road-to-2020" data-desc="More than 1,000 trees are planted." data-image="https://contents.pep.ph/images2/writeups/b548df052.jpg"> Haribon's Road To 2020" data-url="https://www.pep.ph/lifestyle/23547/gma-networks-kapuso-ng-kalikasan-project-supports-haribons-road-to-2020" data-desc="More than 1,000 trees are planted." data-image="https://contents.pep.ph/images2/writeups/b548df052.jpg">