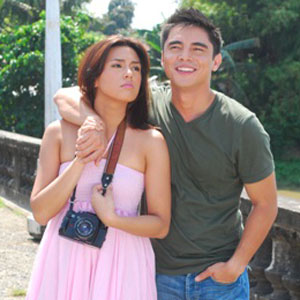 IMAGE 0
---
Nikki Gil has earned a Best Actress nomination for her first lead role in a movie titled The Red Shoes.
The ASAP XV and Entertainment Live co-host is expected to fly to Hanoi on October 19 to attend the 1st Vietnam International Film Festival (VIFF) that will run from October 17-21. The October 18 and 19 screenings will be attended by director Raul Jorolan and writer James Ladioray.
The Red Shoes is also eligible to be named as Best Film in the VIFF. Nikki is also expected to grace the party for Asian stars nominated in the festival, among them Hong Kong actor Daniel Wu (The Banquet).
The Red Shoes depicts the fictional story of Lucas (Marvin Agustin) who took a pair of red high heels from the collection of former First Lady Imelda Marcos. The stolen pair of shoes is the focal point of the story of his youth, family life, career and enduring love for his former girlfriend Bettina (Nikki Gil).
ADVERTISEMENT - CONTINUE READING BELOW
This film produced by Unitel also stars Liza Lorena, Tessie Tomas, Tetchie Agbayani, Tirso Cruz III, and Iwa Moto.



RECOGNITION FROM COLOMBIA. The Filipino film has also brought honor to the country by earning a Mencion de Honor during the 27th Bogota International Film Festival (BIFF) held in Colombia.
The Red Shoes is the only Southeast Asian film that competed in this festival from September 29 to October 7.
The 15 other entries of the BIFF came from the United States, Finland, Italy, Spain, Turkey, Brazil, Colombia, Costa Rica and Nicaragua. The BIFF is considered to be one of the biggest and most important film festivals in South America.
The Red Shoes will also be featured in the 18th China Rooster and Hundred Flowers Film Festival in Beijing, China from October 11-17, 2010.
Locally, this Unitel film received a Special Citation for Film in the 32nd Catholic Mass Media Awards given out on October 13.
ADVERTISEMENT - CONTINUE READING BELOW