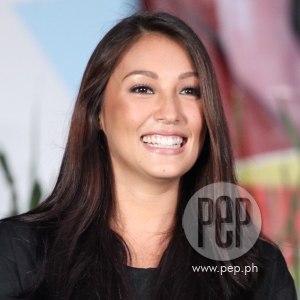 IMAGE 0
---
Survivor Philippines Celebrity Showdown castaway Solenn Heusaff, 25, had no intention of joining showbiz when she auditioned for the top-rating reality show in GMA-7. Her exposure on the show attracted a lot of offers, however, and she does not want to reject them.
"I really joined Survivor because I want the experience, not the fame," Solenn told PEP (Philippine Entertainment Portal) yesterday, October 17, at the Survivor Philippines grand fans day at Sky Dome, SM North Edsa, Quezon City.
For Solenn, being a Survivor castaway does not necessarily lead to a career in showbiz.
"Kasi I have friends from the other Survivor, like Mika Batchelor [Season 2], and they have normal lives now. I felt mine will be normal also, but I have offers. So, I don't wanna say no to anything," Solenn said.
The model and fashion designer declined to say what the offers are. She also did not want to confirm if she will become a Kapuso.
"I can't tell anything yet, pero I like GMA. So, I'm hopefully gonna be fine with them," she said.
There are also rumors that Solenn will become Richard Gutierrez's leading lady in the next Captain Barbell.
"We'll see what happens," said Solenn, not confirming or denying anything.
Solenn Heusaff is the older sister of Erwan Heussaff, the rumored boyfriend of Anne Curtis. Solenn, however, is the first Heussaff to officially join showbiz. For now, she is busy attending voice lessons and acting workshops.
"Well, we'll start taking voice lessons because I want to put a CD out next year. And then, I wanna do workshops first, because I don't think I know how to act. Pero we'll see. Maybe with training I can be a proper actress," she said.
Solenn is also a singer?
"Yes," she answered. "My voice is very jazz, very low. I was supposed to sing today, pero I have a sore throat so I can't. Next time."
ADVERTISEMENT - CONTINUE READING BELOW
She is also readying herself for negative intrigues that may come her way.
"Alam ko. I'm prepared, I'm very prepared. And if they hate me too much, I'll just move to France. Just kidding!" she said.
NOT A TRAITOR. Last Friday, October 15, on Survivor Philippines, viewers were shocked when Solenn sided with the castaways who wanted to vote out Mico Aytona, her closest ally in her tribe. Solenn said she's aware that many viewers regard her now as a traitor because of her decision.
She explained, "I know. Everyone hates me, but it's okay. It's part of the game, and I thought he was gonna vote me out, so I had to do what I had to do to save myself...
"I'm just playing the game. Parang like basketball game, you're not gonna give your ball to the other team like that. Play for yourself, see where you can go, and try to survive lang.
"Yeah, 'cause I think so far there's been a lot of hate coming that's more towards Jon [Hall], because they think he's an ass. But of course, 'cause I'm a traitor, so it's even worse....
"But I think the people also have to understand that it's a game and you have to... When you are on the island, your mind is just somewhere else. You just have to do what's gonna save your butt."
Despite her unpopular decision, Solenn was happy to see some of her fans on the grand fans day.
"Yeah. I'm so happy they're supporting me and everything. I hope they get to see throughout the game, how I play and everything.
"I'm not a plastic girl, it's just really, really it's a game. 'Cause I'm really touched and really blessed and I'm thankful for everything. Yun lang," she said.