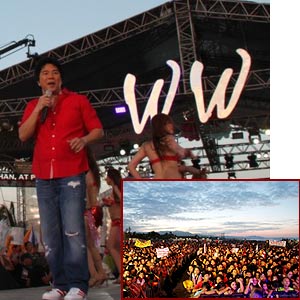 IMAGE 0
---
TV5 owner Manuel "Manny" Pangilinan was intently monitoring Willing Willie's live show at Lingayen's Beachfront Capital Complex in Pangasinan through a television set installed here in Manila when the camera took a shot of the enormous crowd.
Startled by what he saw, Pangilinan picked up his phone to call the network's vice president for entertainment Perci Intalan—how many people were there?
"60, 000," Intalan replied, citing the estimate given by local authorities overseeing the volume of people coming to the venue since the early morning of December 18.
However, the businessman was reportedly not convinced.
"I think it could be more!" Pangilinan said proudly.
TV5 OUTREACH. Willing Willie's live presentation in Pangasinan last weekend was staged to drum up TV5's aggressive campaign to make its growing presence felt in the provinces outside Manila.
Focusing on Pangasinan first was a sound business strategy for the Novaliches-based network.
Pangasinan is widely regarded as the "heartland of the Philippines" and the "center of Northern Luzon" owing to its strategic location, which connects it to the neighboring provinces: Zambales, Tarlac, Nueva Vizcaya, Nueva Ecija, La Union, and Benguet.
The province's high population rate also makes it an ideal commercial hub.
In a press conference held at the Lenox Hotel in Dagupan City a few hours before Willing Willie, TV5 chief operating officer Bobby Barreiro told the local and Manila-based press that the network's success in the country's main capital this year inspired them even more to boost the station's expansion plans for 2011.
Establishing a strong signal in all regions is the network's topmost priority to ensure that each household enjoys TV5 programs without interference.
"The next two major areas will be Davao and Cebu. As we speak, we're building a new tower in Cebu... So for both areas for the First Quarter [of 2011], both will be fully operational already," announced Mr. Barreiro.
ADVERTISEMENT - CONTINUE READING BELOW
Technical upgrades are currently being implemented on their satellite and studio facilities to make the network even more competitive in the provinces, he said.
ENERGIES HIGH AND LOW. The highlight of TV5's weekend regional launch was Willie Revillame's live presentation of his primetime game show Willing Willie at Lingayen's Beachfront Capital Complex.
Fans and supporters trooped to the venue since early morning to secure a good spot near the giant stage.
By mid-afternoon, the entire complex was packed with people. Some even came from nearby provinces just to watch the special presentation.
The fiesta atmosphere was evident right from the start. As soon as Willie Revillame went on stage, the audience screamed and greeted him with wild applause.
Willie's energy never wavered despite having to holler into the microphone most of the time so that he could be heard all the way to the back.
Extreme heat and exhaustion in the airtight crowd forced members of the security to constantly pull people away. Some were already fainting and experiencing shortness of breath.
The medical team stationed around the venue worked overtime to assist persons being carried out by the security personnel from the moment the show started.
The staff of Willing Willie had to ask the audience over and over to settle down and to refrain from pushing one another.
GENEROSITY AND HIGH HOPES. Willing Willie co-host and Valenzuela councilor Shalani Soledad—who was introduced by Willie as the "First Lady of Primetime"—said that Willie had never witnessed such a huge crowd before.
Many of those in the crowd even brought with them placards and sign boards containing words for Willie and his shy co-host.
One message read, "Sana kayo na lang ang magkatuluyan." That pertained, of course, to Willie's reported romantic pursuit of Shalani.
Obviously elated by the people's warm reception, Willie was generous towards the contestants, even assisting them himself during the games to boost their chances for the cash prizes.
ADVERTISEMENT - CONTINUE READING BELOW
Willie handpicked elderly people from the crowd and invited them on stage to participate in the "123 Go" game. The P100, 000 cash prize was split even among the grandmothers and a child with Down Syndrome.
The controversial game-show host distributed gift packs to the audience while rendering a song number, but he also had to apologize, saying, "Pasensiya na ho kayo, hindi po lahat mabibigyan at masyado kayong marami."
Andrew E entertained the crowd by singing a medley of his past hits, including "Humanap Ka ng Panget," which remains the rapper's biggest hit to date.
Incidentally, TV5 will be launching a new sitcom next year, which will carry the title of Andrew E's hit.
Willing Willie's Pangasinan show proved to be a huge success and network executives hope that's a sign of great things to come.
As for Willie Revillame's impact on the network in terms of primetime ratings, Mr. Barreiro says, "Blessing po talaga na nasa amin siya ngayon. Kung ano ho 'yong nangyari sa kanila nung dati niyang estasyon ayaw na ho namin masyadong magsalita tungkol dun dahil meron pa nga hong kaso 'yon.
"Pero it's definitely a blessing that we have the program of Willie. We were already doing well in the weekends before with Talentadong Pinoy and Midnight DJ, but now even on the weeknights, Monday to Friday, there were nights na nag-number one kami.
"Last week twice, Wednesday and Friday, nag-number one kami. So, it's definitely a blessing that he has his program with us. We're very happy to have him."