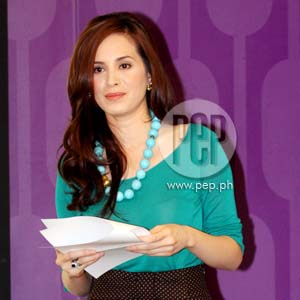 IMAGE 0
---
TV host and Congresswoman Lucy Torres-Gomez is undoubtedly one of the busiest bees today.
She juggles her responsibilities as representative of the fourth congressional district of Leyte; a showbiz career hosting QTV-11's A Sweet Life, and TV-5's Shall We Dance and Sunday noontime variety show PO5; as well as playing her 24/7 role as Richard Gomez's beloved wife and mother to seven-year-old daughter Juliana.
Lucy describes her new job as Representative in an exclusive interview with PEP (Philippine Entertainment Portal) earlier this afternoon at C-Lium Fibre's product launch at Summit Office, 6th floor, CyberGate Tower 3 in Mandaluyong City.
CONGRESSWOMAN. Lucy stressed that she takes her new job as a public servant seriously, "Being a public servant is a lot of hard work. It is something that I don't...I always say this, I don't take lightly because I feel responsible for all those hundreds and thousands who voted for me, even those who did not vote for me."
The TV host, who has one of the loveliest faces in show business, differentiates her engagement in showbiz, on one hand, and her work in Congress, on the other: "In showbiz, to a certain degree, you're only accountable to yourself.
"But in politics, you're accountable, like in my case, to the district I represent. It is for that reason that I don't take my job lightly," the 33-year-old representative of Leyte's fourth district said.
Lucy's career in politics became imperative after her husband Richard Gomez's candidacy was disqualified by Comelec. She says that she has now to face the responsibility bestowed on her. "When I won, I did not resist anymore. Nandyan na, eh, bakit mo pa lalabanan yung nandyan na, so all I know for sure is that I have three years.
"I have a full term to really perform for the district. Not because I want it as yabang factor na, 'Oh, nagawa ko ito for the region,' but only because I am mandated to do that. It is my responsibility to make it better," Lucy said.
ADVERTISEMENT - CONTINUE READING BELOW
Lucy related that she did not have any preparations before taking on the legislative job because of the swift turn-out of events during the election, "We did not prepare for this at all because he [Richard] was the candidate, who would have won it, except that the opponent didn't want to fight fairly and they [opponent's camp] knew that their only chance was to disqualify the strongest candidate, which they were able to do successfully."
"But I think they didn't know that the switch would happen. I did not know. It was never planned also," she added.
The congresswoman singled out the potential of tourism as a means to improve the conditions of her district and her constituents. "Tourism would mean more jobs immediately. Tourism is a way of improving the economy.
"It's really making the district better, making it more progressive. We're not there yet. We're not there yet where we can take care of the marketing side. What we really want to do is to bring up opportunities for the people who live there," Lucy shared her vision for her district.
MULTI-TASKING. Her public-servant hat aside, Lucy hosts a dance show on TV-5 Shall We Dance; and a Sunday noontime show PO5 in the same network where she co-hosts it with her husband Richard; plus a lifestyle show on QTV-11 A Sweet Life.
She says that hosting a program with Richard helps their family life. "It's nice. The more we spend time together, the better."
For the show A Sweet Life, Lucy was all praises for actress Iza Calzado who recently joined as her co-host last August, replacing model-turned-comedienne Wilma Doesnt, "It is wonderful. Iza is very funny also, funnier in off-cam."
Juggling her legislative and showbiz roles, Lucy said that she still makes it a point to spend quality time with her daughter Juliana, "I really try...I spend quality time with her so I think that even with an added workload, I haven't compromised with any time with her," Lucy said.
ADVERTISEMENT - CONTINUE READING BELOW
In a separate interview with husband Richard Gomez last September, Richard related that they still share their room with their daughter and treats it as their chance to catch up with each other.
TIME MANAGEMENT. Lucy shared her usual weekly schedule. Mondays to Wednesdays are spent for her legislative duties; on Thursdays and Fridays, she tapes for her shows.
She said that she has to adjust her taping schedules to accommodate her legislative duties, "I'm very lucky that QTV [11] adjusted my taping schedule. We usually tape Mondays and Tuesdays. When I won, they moved it to Thursdays and Fridays. If I have to go back to the district, we tape in advance."
Given all the roles she performs, multi-tasking and setting priorities help her to accomplish things. "You do it because you have to. There is no other choice.
"You cannot take off one hat just for the other. So you learn to multi-task and to be more efficient with your time. You prioritize. You don't have to say yes to everything," she stressed.
Lucy's aura speaks for her healthy lifestyle, despite her busy schedule. She takes good care of her health.
"To be able to do things you want and the things you have to do, you really have to be healthy. I always say, you cannot give what you do not have. I believe, really, that health is wealth.
"If you have a good health and you have the gift of youth also, you can consider yourself the wealthiest person. If you have youth and health, you have youth and wealth on the side," Lucy said calmly.