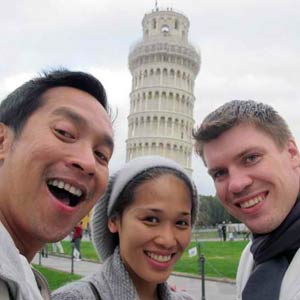 IMAGE 0
---
Reuben Laurente and Anna Fegi will be together for the next two years in a show called Centerstage for Royal Caribbean Production Studios.
The talented performers will bring world-class entertainment to international guests on board the Brilliance of the Seas, one of the 23 ships of the Royal Caribbean International.
The cruise ship has a western Mediterranean itinerary (Spain, Italy, France, Greece, Turkey, Croatia). It crosses Egypt, Jordan and the Suez Canal and also to the United Arab Emirates (Abu-Dhabi, Oman and Dubai).
Reuben and Anna are part of the 12 performers from Australia, Italy, Albania, Argentina, England and the United States. They perform in productions such as a Broadway review called Now and Forever, featuring excerpts from the Producers, Contact, Fosse, Full Monty, and Mama Mia; a pop concert called Center Stage featuring songs from the '60s to the '80s, and a dance tribute called Tango Buenos Aires where they sing Spanish songs. They also do a jazz set and a thematic show called Summer Breeze.

The tandem spent time in Manila before their next cruise. This writer, together with other members of the entertainment press, recently sat down with these excellent singers as they shared their interesting onboard stories.

Reuben recalls how he started out as a performer onboard the cruise ship Brilliance of the Seas. "Our casting director asked me if I would be willing to perform with Anna Fegi for my next contract, my eyes almost popped out of my eye sockets and I just said, 'But of course, yes!'"

Anna adds, "We auditioned at the same time, the summer of 2007. We got the position at the same time as well but were assigned in different ships. When I came back to do another contract and Kuya had to do his third one, we were fortunate to be given the same ship and we both were so happy."
ADVERTISEMENT - CONTINUE READING BELOW

She relates, "I have known him for more than a decade. I met him during his time with The Company. I love The Company! We used to support each other because we were in the same recording label before. Reuben has always been there for me and has always been like a big brother to me. He is very passionate and very hardworking. We love to challenge ourselves. He pushes me to be a great performer. And we always have fun, be it off-stage or onstage."
During the interview, the Pinoy performers revealed the rewarding and difficult aspects of being international cruise performers. Is there a downside to it?

Reuben replied, "If there is a downside to it, I guess that would be your not being able to be visible in the music industry. I was supposed to release a Christmas album two years ago, gawa na, but I don't think there was a mainstream label willing to co-distribute it. Mahirap sigurong mag-promote din pag wala ka."

"Of course, there will always be homesickness," he discloses. "Since I acknowledge that already, it is easier for me to cope and surface above it. You meet new friends, you enjoy the places that you visit, and most of all you talk to the good Lord about it kaya [hindi] masyadong homesick.
"Nakapag-bond din kami ni 'Day, that's how I call Anna, big time! You should always have to have someone whom you can vent to pag may mga ganyang sitwasyon."

Anna finds it difficult to be separated physically from her loved ones. "Being away from family and friends, missing the birthdays and anniversaries and special events or any important occasions. Communication is a bit challenging. If we are not at sea, we are [too] far across the world to call and collect different SIM cards from around the world.
ADVERTISEMENT - CONTINUE READING BELOW
"Just being away from home is biggest downside, I have to say. I love spending Christmas and New Year at home in Cebu, especially our Sinulog Festival every 3rd Sunday of January. I missed it," she laments.


TRAUMATIC EXPERIENCE ONBOARD. The biggest "downside" Reuben and Anna have experienced was the winter storm that hit their ship last December, the worst incident Royal Caribbean International has faced. Their faces turn sullen as they relate their "near-tragic" experience.

"The winter storm hit us second week of December on our way to Alexandria, Egypt," recalls Reuben. "It happened and we do not want to point finger at people, sino ba naman ang may gusto nun? But the ship moved at a 40-degree angle, nakakatakot talaga but God was in control and I believed that it was a miracle, we did survive it.
"I was sleeping and woke up standing up, slamming the door, then I just held on to my Bible and started reading and started uttering Psalm 23's 'Though I walk through the valley of the shadow of death, I will fear no evil for Thou art with me.'"

Fegi swears, "I was seriously traumatized and thought of quitting and fly back home. All of my things where shoved to one corner, including myself. But when you see other people getting scared and crying you got no choice but to pick up yourself fast and help others."

"We were emotionally disturbed after that incident, but we had to do our job," Reuben says seriously. "The guest entertainer for that cruise didn't arrive because we had to make a detour, so the cruise director had to ask me and Anna to do a show together. We were always ready with our sheets, so isang oras na ensayo with the band and voila! It's Showtime! Thank God we did great, parang nag-ensayo kami nang matagal. Alam mo naman ang Pinoy, fight lang nang fight, 'ika nga."
ADVERTISEMENT - CONTINUE READING BELOW

Anna avers, "Kuya Reuben and I were still dealing with our fear, yet we thought and realized who else can comfort the thousands of guests onboard? We came here to work, signed a contract to entertain the guests. So we did it. I just really tried to be calm and be myself even though my hands were shaking, not because of nervousness but because of the trauma caused that morning.
"They all laughed when I had to take off my heels for me to reach my high notes. They all were so warm despite everyone's trauma. It made me feel good that Reuben and I entertained them for forty minutes. It was a fulfillment to make people smile. It gave me a certain comfort."

Reuben mentions another achievement that he was most proud of during their stint onboard their cruise ship. "Aside from that freak incident, the other memorable thing was our ship topped the ratings in the production shows in the fleet, it's always a team effort achieving that and we know that we were an integral part of that accomplishment."
REPRESENTING FILIPINO TALENT. Anna and Reuben feel lucky to be given the chance to show foreigners the versatile talents of Filipinos.

The chanteuse points out, "God gave me an amazing gift, which is my singing voice. I happen to love singing and performing. It's my real passion. It is not even work for me. Being able to sing and perform, get paid by doing so, and travel the world at the same time is more than a dream come true. I am not getting any younger. When can I explore the world? How? It is expensive enough to go visit one country.

"Working in a cruise gave me the opportunity to explore South America, and Europe. If I may count how many countries I have visited, I feel proud. What more can I ask for? And I also get to save.
ADVERTISEMENT - CONTINUE READING BELOW
"But the real deal is to show to the world how Filipinos perform. How passionate we are with music and performing. It is such a fulfillment when Filipinos are being acknowledged as amazingly talented, passionate people. It makes me proud!"

Balladeer Reuben adds, "The joy of performing and entertaining before an international audience of 50 nationalities and being given the recognition and appreciation that you deserve when you get to meet and mingle with them—this somehow validates me as an artist, that we are from the Philippines, showing these people that the talent and artistry of the Filipino performer is of world standard."

When asked how she prepares for her shows onboard, Anna reveals: "Before the show, I always try to be focused and make sure all my costumes are pre-set in the right places. Our costume changes are really fast, so all my wigs, earrings, necklace, bracelets, gowns, stockings down to shoes, handa lahat! We only have seconds to do that. We have no alalays to help us. We are trained to do everything!"

She goes on, "Aside from making sure my voice is warmed up enough, I just drink water and relax. I always give my best shot when I perform each and every single show. I always try to make it better than the last. I don't want to get bored. I make mistakes, I have to admit that, but I learn from it and move on."

For his part, Reuben admits that he is always nervous before a show. "But I do not let extreme tension conquer me. Kailangan kasi, balanse, just so I can do my best in my performance. It is always a different high when you bump into guests telling you how great Anna and myself were as performers or how great the show was... because a great part of it was our performance on the shows. Nakakataba ng puso talaga, that is why you want to give more because they give it back to you as well."
ADVERTISEMENT - CONTINUE READING BELOW
To this, Anna adds, "It is overwhelming to meet and talk to audiences who appreciate and acknowledge all the effort and hard work you've done. But most especially they see the passion and fun we feel onstage. That is more than a fulfillment already! And every conversation I make, I never fail to say, I'm Anna from the Philippines."

HONORED AS GLOBAL PINOYS. Both Anna and Reuben are recipients of the SM Global Pinoy Awards. Anna got her recognition in 2009 while Reuben was honored last year, along with the first Filipino all-female mountaineering team that reached the summit of Mt. Everest, pop-opera singer Jonathan Badon, and renowned director Brillante Mendoza.
"I love my job. I always say this: I love performing. I love music and singing. I live by doing so," says Anna. "So wherever God will take me, as long as I keep singing and performing, I will be happy and content with life.
"I am so proud of each and every one of them [Centerstage performers]. They all are very talented and hardworking. The Filipinos on board are very warm and welcoming to me and are constantly very supportive with me and Kuya Reuben. We all are very proud with each other."

Reuben feels touched by the recognition that he received from his kababayans."I am very much content and happy with what has happened to me and my career as a cruise performer and I will still continue this career path as long as I can see myself improving and finding opportunities in elevating my act a notch higher.
"I will always be receptive to the idea of performing and recording when I am home, because it is always a different high getting that appreciation from your own people. Masarap lagi yun, parang icing sa cake!" says Reuben.
ADVERTISEMENT - CONTINUE READING BELOW