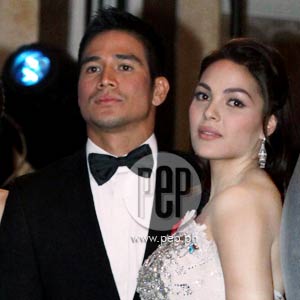 IMAGE 0
---
"I just want it out and I just want them to know that she's taken,"said Piolo Pascual about his girlfriend of three months KC Concepcion.
His sudden announcement on The Buzz last January 31, elicited various reactions from the PEPsters.
In the site's poll on that same date, 45.77% of the 1,029 voters believed it was just a gimmick.
There's no doubt about their closeness. The two have remained inseparable even after their last television project Lovers in Paris ended in 2009.
Last year, the controversies that surrounded KC also involved the Noah star—like, the alleged tweet of Piolo's son Iñigo and The Buzz co-host's transfer to Star Magic.
But some couldn't help but find the 33-year-old actor's revelation dubious.
Why? Because it came at an opportune moment.
Valentine's Day is fast-approaching, and the balladeer's upcoming concert titled Piolo Meets Maestro Ryan Cayabyab will take place on the same day.
The admission will also end the almost-eight-year queries about PJ's (nickname of Piolo) relationship status.
As for the rest of the voters, 35.67% said, "It's a match made in heaven!"
Piolo and KC are in the list of Most Beautiful in showbiz. Both can sing, act, and dance. Both are kind-hearted.
At the height of the promo of their TV series, some kibitzers observed that the romance was just for reel, and that one of them was not really into it.
But at the Star Magic Ball, which was held in September 2010 and where they were spotted together (for the second time), the sweetness was no longer just for show. Piolo himself had admitted in one of his previous interviews that their friendship had gone to a deeper level.
So, is it gimmick or not?
Given the percentages cited above, PEPsters as a whole are not sure. The only way to know eventually is by letting things unfold.
ADVERTISEMENT - CONTINUE READING BELOW
Is it going to last?
Again, that remains to be seen. But one thing's certain—KC and Piolo are really good friends.