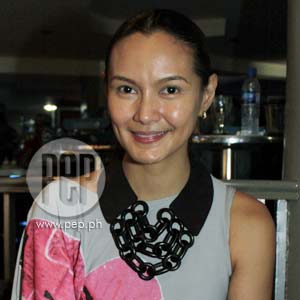 IMAGE 0
---
It feels weird at first to hear former supermodel Tweetie de Leon-Gonzales talk passionately about pizza.
"I love pizza! That's no secret. I tell everyone. I always nga joke around saying pizza is a complete meal, may carbohydrates, may vegetables, may protein, may cheese," she laughs in an interview with PEP (Philippine Entertainment Portal) at the press launching of Domino's Pizza at Strumms on Jupiter Street in Makati City.
"I'm more partial to pizza with meat... Italian sausage, ganyan, salami, pepperoni, 'yan yang mga favorite ko."
Considering all the stereotypes surrounding models and their supposed picky nature when it comes to food, the Filipino beauty icon surprisingly reveals that she's not the type who would deprive herself of a good meal.
"Anything naman in moderation," says Tweetie. "Kahit naman cupcake kakain ako. Just don't eat ten, just don't eat five. Just have a healthy helping, not over-indulging. That's what I practice for myself."
She continues, "So if I want pizza, I'll eat pizza. Because if I deprive myself, I'm going to binge. One moment, I'm just gonna binge and that's not going to be healthy for me. So yeah, I do indulge in treats. I just don't over-indulge."
FITNESS JUNKIE. For Tweetie, being fit and sexy is not just to maintain her statuesque image.
"More than being conscious of the figure, I'm more conscious of my health. I want to keep myself healthy to enjoy my life and make the most of my time with my family and children," she says.
Tweetie is a non-believer of "crash diets and popular diet programs," citing scientific findings showing that pounds shed on quick weight- loss techniques are certain to rebound eventually.
"Maybe to start you off, that's fine. But you have to do your homework and you have to do your share of being healthy. After that you keep to a regimen that you're able to sustain for the rest of your life," continues Tweetie.
ADVERTISEMENT - CONTINUE READING BELOW
"So kapag pumayat ka na, di you know na how much the amount of food to eat. You know how much exercise to get yourself into, and find something that you enjoy so that you're able to hold up to the demands of the exercise for long periods."
For one who's a self-confessed "exercise addict," Tweetie certainly knows the positive benefits of being constantly in motion to burn off those surplus calories.
"I do different things. More often than not, I play squash two hours each time, three times a week. I do run occasionally. I do court training and I tried many exercises. I tried yoga, I do boxing, I still do a little boxing pa rin up to now," smiles the morena beauty.
SKIN CARE REGIMEN. Tweetie is free, of course, from any vice or bad habits which affect the skin. She takes good care of her skin and overall physical health.
"I try my best to sleep a reasonable amount of hours. But then of course sometimes I slack a bit, but water is good therapy for skin. I drink a lot of water, that's my favorite beverage.
"I put a sunblock and I try to avoid overexposure to the sun, wear a hat if I have to. Of course I use Ponds Gold Radiance line. It all basically boils down to leading a healthy lifestyle," Tweetie points out.