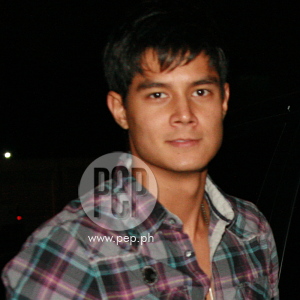 IMAGE 0
---
In our interview with Daniel Matsunaga last Saturday, February 12, we were surprised when he revealed that he does not have a special diet to maintain his chiseled physique.
"I eat everything," the 22-year-old Brazilian-Japanese model-actor told PEP as he munched on a slice of cheese-filled pizza.
Instead of a religious diet, Daniel said he just goes to the gym everyday to compensate. He also plays a lot of sports.
"Futsal, three times a week," Daniel declared proudly. "Every Monday, Wednesday, Friday. When I can, I play."
Futsal is a variant of football, played mostly indoors and in a smaller area. It is often called indoor football.
Daniel added, "I know a lot of people who play football in the Philippines so they always call me to make a team and join the tournament. A lot of Brazillians. I know a lot of people, I know a lot of Filipinos that play also. A lot of Iranians. People from everywhere."
The model-actor said he had been crazy about the football even as a small boy in Brazil. He even mentioned that had he not been given an opportunity to model, he might be one of Brazil's top football players today.
Brazil is one of the countries in the world whose citizens consider football as a national sport. In fact, their national football team is one of the strongest and hardest to beat internationally.
According to official records, Brazil has won the most number of championships in the history of the FIFA World Cup. They won five trophies in 1958, 1962, 1970, 1994, and 2002. Brazil will also host the next world cup in 2014.
In last year's FIFA World Cup, Brazil only reached the quarter-finals. Daniel said this incident "broke his heart."
"We did not expect that loss," he said. "Okay lang, you know? It always happens. We just hope that the next time, when it's gonna be in Brazil, 2014, they win. We are really hoping that."
ADVERTISEMENT - CONTINUE READING BELOW
AZKALS. Now that he's in the Philippines, Daniel mentioned that he now supports the Azkals, the country's rising football team. He even expressed his desire to join the team.
"My plan before doing modeling, all these kind of things, was to be a football player. And I played football all my life, so why not?" he wished.
However, his hectic schedule as an actor prevents him even from watching the local team's games.
"I don't really watch it. But I heard they're really getting better and better, right, and more famous. I would love to watch the game, you know, and even try to join the team one day. We'll never know," he said.
Now that he practically lives in two countries, what team will he support in the next world cup? Daniel, at first, cannot make up his mind.
"Well, I am sure more of Brazil side, 'cause you know, I grew up there. Of course I will support the Azkal," he said,
Later, he came up with a solution: "I wouldn't wear both T-shirts. I will just go black so, be in the middle:"